Jobless rate rises in nearly all states
Forty-eight states and the District of Columbia post unemployment rates rise in May, while only one state - Nebraska - registers a decrease.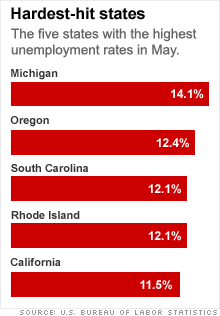 Map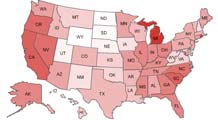 NEW YORK (CNNMoney.com) -- Forty-eight states and the District of Columbia recorded unemployment rate increases in May, the government reported Friday. One state registered a rate decrease, and one state had no rate change.
Several states and regions posted their highest unemployment rate since the report debuted in 1976.
Over the year, jobless rates were higher in all 50 states and the District of Columbia.
Michigan once again led the nation with a 14.1% jobless rate, up from 12.9% a month earlier, followed again by Oregon at 12.4%, up from 12% in April. Thirteen states have rates above 10%.
Michigan's 1.2 percentage point increase from April was also the largest jump in the country, followed by Rhode Island's 1 percentage point hike. Both states are suffering from the devastation in the manufacturing sector. Michigan, in particular, was hit by Chrysler's plant shutdown early in the month and a series of GM plant closings.
The California, Nevada, North Carolina, Oregon, Rhode Island, South Carolina, Florida and Georgia rates were the highest for those states since the report was first issued.
Vermont recorded no change in its rate, while Nebraska's rate declined by 0.1 percentage point to 4.4%. Nebraska and North Dakota tied for the lowest unemployment rates in the nation.
The national unemployment rate rose to a 26-year high of 9.4% in May, up from 8.9% in April.
Nonfarm payroll employment decreased in 39 states and increased in 11 states and the District of Columbia in May. The largest over-the-month decrease in jobs occurred in California, followed by Florida, Texas, and Michigan.
The West reported the highest regional jobless rate, 10.1%, followed by the Midwest, 9.8%. The last time any region had a rate of at least 10% was September 1983, when the Midwest posted a rate of 10.1%. The Pacific and South Atlantic regions posted record highs.
The Northeast recorded the lowest rate in May, at 8.3%.
The spike comes a month after the unemployment rate declined in more states -- 21 -- in April, which bureau officials called an aberration.
"Generally the states are going to follow what's happening on the national level," said Brian Hannon, economist in the local area unemployment statistics division.

Features

These Fortune 100 employers have at least 350 openings each. What are they looking for in a new hire? More

It would be the world's second-biggest economy. See how big companies' sales stack up against GDP over the past decade. More