Cash for Clunkers list snafu resolved
Some buyers will get the benefit anyway, but only if they acted before the EPA's changes.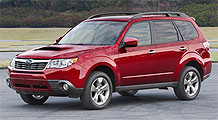 Vehicles like these will help SUV and truck owners get the biggest bang for their trade-ins.
Find your next Car

NEW YORK (CNNMoney.com) -- The last-minute snafu that suddenly disqualified some previously eligible vehicles from the Cash for Clunkers program has finally been cleared up.
Last week, just before the program's July 24 official start date, 78 vehicles were made ineligible when the Environmental Protection Agency upped the estimated fuel economy ratings on those vehicles. At the same time, the EPA suddenly lowered the fuel economy ratings for 86 other vehicles, making them eligible.
Acknowledging the confusion caused by the EPA's changes, the National Highway Traffic Safety Administration which manages the Clunkers program, said Thursday that trade-ins made between July 1 and July 24 of vehicles that became ineligible after the switcheroo will be allowed to keep their rebate, NHTSA spokesman Rae Tyson said.
The program officially began on July 24 but retroactively recognizes deals made beginning July 1.
This means that buyers of unclunked cars who jumped on the program's unofficial July 1 start will be pleased. They'll get to keep their rebate. Those who waited and now find that their cars are no longer eligible are out of luck.
But for people who traded in cars that only became eligible after July 24 the opposite is true: Those deals made before July 24 will not get rebates. Those made after that date will qualify, Tyson said.
Cash for Clunkers offers government rebates of up to $4,500 to drivers who trade in cars with combined city and highway fuel economy ratings of 18 MPG or less.
As of Wednesday, nearly 30,000 Clunker transactions had been been submitted to NHTSA, the agency said, requesting a total of almost $96 million in disbursements. The program will end on Nov. 1, or whenever its $1 billion budget has been depleted.

Features

These Fortune 100 employers have at least 350 openings each. What are they looking for in a new hire? More

It would be the world's second-biggest economy. See how big companies' sales stack up against GDP over the past decade. More