Cash for Clunkers: Popular, but it may not matter
Congress is trying to get another $2 billion to fuel an extension but, for now whether or not the Clunker program will actually boost auto sales in the long run is unclear.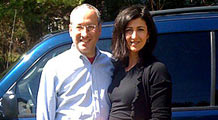 From a 1997 Mercury Cougar to a 2009 Honda Pilot, 8 readers tell us why they decided to buy a new car or keep their old wheels.
Find your next Car

NEW YORK (CNNMoney.com) -- While the Cash for Clunkers program is being hailed as a success, having apparently burned much or all its of its billion dollar budget in a matter of days, some analysts doubt the program will amount to much in the long run.
Even with more funding, the resulting boost in auto sales will amount to little more than a temporary reprieve, said Gary Dilts, an auto analyst with J.D. Power and Assoc.
"$2 billion will buy you another piece of a month," he said, "it would buoy August into a reasonable month."
It would also be wrong to assume that the program deals would continue at this frenzied pace, said Jeremy Anwyl, chief executive of the auto Web site Edmunds.com.
The quick burn rate was more a sign that the program was woefully under-funded than there being huge demand, he said.
Even during a normal month, roughly 60,000 to 70,000 Clunker-type vehicles get traded in, he said. Plus, Edmunds.com's market analysis indicated that roughly 100,000 car shoppers had delayed their purchases until the program officially kicked in.
The program was only designed to pay out for 200,000 to 250,000 sales.
By the time it began, rumors had already begun circulating on Internet chatrooms that the funds wouldn't last, he said. "Any time you create a shortage, you get a frenzy," said Anwyl.
Besides all that, he pointed out, the program came at a time of the year when car sales tend to spike. In the late summer months customers are looking for deals during the model year changeover, when dealerships have to sell off last year's cars.
In addition, the program's official kick-off date happened to come at the end of a month when dealers are pressured to meet monthly sales quotas, pointed out Tom Libby, president of the Society of Automotive Analysts.
"There is pressure for reporting sales by the end of the month," he said.
Libby did think the program had genuinely tapped into pent up demand, however.
"It's going to draw in people that the forecasters didn't think would be players," he said.
Mike Jackson, chief executive of AutoNation, the country's largest auto dealership chain, agreed that the program was bringing in customers that wouldn't have bought otherwise. AutoNation had booked 3,000 Clunker deals, he said, and the average customer had a higher credit rating than usual.
"They're frugal consumers," he said, "who have owned their vehicles for a long time, for hundreds of thousands of miles, and they were going to keep these vehicles forever."
While Anwyl agreed that there are many customers out there who are financially capable of buying who have simply kept themselves out the market before now, he still cautioned against expecting too much,
"I think that demand will be met more quickly that we think," he said, "because the industry is misreading these signals.

Features

These Fortune 100 employers have at least 350 openings each. What are they looking for in a new hire? More

It would be the world's second-biggest economy. See how big companies' sales stack up against GDP over the past decade. More