Bank failure tally tops 84
The number of bank closures this year continues to grow as the fallout from the housing crisis and unemployment take a toll on local financial institutions.
Map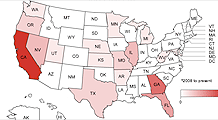 DID YOUR BANK FAIL?
For more information visit www.fdic.gov
Don't panic – your savings are insured
Keep paying your loans – the terms remain the same.
The FDIC will notify you by mail about your accounts/loans.
Contact the FDIC with any questions until further notice
If your bank is purchased, you will be contacted by your new bank.
NEW YORK (CNNMoney.com) -- Regional banks in Maryland, Minnesota and California were closed by regulators Friday, bringing the total number of failed banks this year to 84, the Federal Deposit Insurance Corporation said.
Baltimore, Md.-based Bradford Bank, which operated nine branches, will reopen Monday as part of Manufacturers and Traders Trust Company.
M&T, which is based in Albany, N.Y., agreed to assume all of Bradford Bank's $383 million in deposits and will purchase "essentially all" of its $452 million in assets, the FDIC said.
In Minnesota, the eight branches of Mainstreet Bank of Forest Lake will be taken over by Stillwater-based Central Bank.
Central will pay a premium of 0.1% to the FDIC for the failed bank's $434 million in deposits and will purchase its $459 million in assets, the FDIC said.
Affinity Bank of Ventura, California, operated 10 branches which will be taken over by Pacific Western Bank.
Pacific Western will assume all of Affinity's deposits of approximately $922 million and purchase its $1 billion in assets, according to the FDIC.
The combined cost of Friday's closures to the FDIC is an estimated $446 million.
Access to funds. Customers of the failed banks will be able to access their money over the weekend by writing checks or using ATM or debit cards. Checks will continue to be processed, and borrowers should make their payments as usual, the FDIC said.
The FDIC, the federal agency that has protected bank deposits since the Great Depression, will guarantee account balances up to $250,000. Qualified depositors of the failed banks will retain their FDIC coverage.
A bad year. With Friday's closures, the number of banks shut this year is more than three times the number of banks that failed in 2008, and it's the highest tally since 1992, when 181 banks failed.
The majority of this year's failures have been small, regional banks that fell victim to losses on real estate and consumer loans as unemployment surged to a 25-year high. But there have also been a number of large institutions closed in 2009.
Last week, regulators in Texas closed Guaranty Bank, which had about $13 billion in assets and was the third-largest bank to fail this year. That came one week after Alabama-based Colonial BancGroup became the sixth-largest bank failure in U.S. history on Aug. 15.
The wave of failures is expected to continue, raising concerns about the size of the FDIC's insurance fund.
The FDIC said Thursday that the number of institutions on its so-called "problem bank" list reached 416 in the most recent quarter -- the highest level in 15 years.
The agency also reported that its trust fund decreased by $2.6 billion, or 20%, during the quarter to $10.4 billion.
Over the next five years, the FDIC expects roughly $70 billion in losses due to the failure of insured institutions.

Features

These Fortune 100 employers have at least 350 openings each. What are they looking for in a new hire? More

It would be the world's second-biggest economy. See how big companies' sales stack up against GDP over the past decade. More