Strapped cities lay off workers, cancel projects
As sales and income taxes decline, 9 of 10 cities are forced to cut spending. Future looks grim with property taxes expected to drop in 2010 and 2011.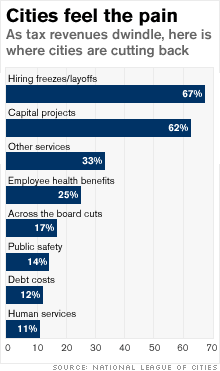 Map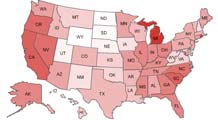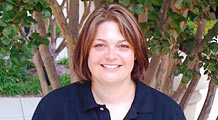 CNNMoney.com readers describe how President Obama's $787 billion stimulus package has helped them -- or hasn't.
NEW YORK (CNNMoney.com) -- More than nine out of 10 cities are slashing spending this year as the recession wreaks havoc on their sales and income tax revenue, a new study found.
And the future looks even worse, as the housing market's steep declines continue cutting into property tax revenue, according to the National League of Cities, which issued the update on city fiscal conditions Tuesday.
City finance officers' pessimism is running at its highest level in the history of the group's 24-year survey. The economic situation on the local level has grown more dire in the seven months since the group released its last report.
"City leaders know the worst is still ahead of them in terms of revenue declines and service cuts," said Chris Hoene, the league's director of research.
The Obama administration's $787 billion stimulus package is expected to help offset some of the cities' misery, but the money won't have much impact until 2010, Hoene said.
Spending cuts
To combat declining revenues, 62% of cities are delaying or canceling infrastructure projects, the study found. That's a 20 percentage point increase from the league's February status report. Some two-thirds of cities are laying off workers or instituting hiring freezes, roughly the same figure as reported earlier this year.
Meanwhile, officials are also raising taxes and fees, as well as tapping city coffers. Some 45% of cities have increased fees for services, while 25% have upped property taxes. More than one in four have added fees.
Also, cities are expected to draw from their ending balances -- which are similar to states' reserve funds -- for the first time since the recession of the early 1990s. Ending balances are expected to decline to 20.8% of budgets, a drop of 3.5 percentage points.
Cities are taking these and other actions to close a projected 2.1% budget gap for 2009, the report found.
In Northglenn, Colo., park lawns are being mowed less frequently and some streets are not being repaired -- the results of a $900,000 paring of the Denver suburb's $18 million 2009 budget. But these moves weren't enough. Two weeks ago, the city laid off 11 workers.
The coming year will bring more cutbacks, such as the likely elimination of the July 4th fireworks display, said Mayor Kathleen Novak. More details will be unveiled when the budget is presented in two weeks.
"We're really trying to keep our core services intact, but the extra things we'd like to do are being cut back," said Novak, who is the league's president.
Property tax pain
While income and sales tax revenues are expected to decline in 2009, property taxes are still projected to grow, albeit at a slower pace. That's because there is often a few years' lag in adjusting property tax assessments.
Many cities are still collecting taxes based on the value of homes from 2006 and 2007, the height of the market, Hoene said. In coming years, however, the rolls will likely be adjusted to reflect the steep plunge in home prices.
"It takes awhile for cities' revenues to catch up to what's happening in the market," he said.
Sales tax revenues are expected to decline 3.8% in 2009 as consumers rein in spending, while income tax receipts are projected to fall 1.3% as unemployment takes its toll, the survey found.
Cities got more bad news Tuesday when a federal report showed that metropolitan area unemployment worsened in nearly 200 places in July.
Detroit, which has the highest unemployment rate among large metro areas, saw its level rise to 17.7% in July, up from 17.1% in June, according to the Bureau of Labor Statistics. Meanwhile, El Centro, Calif., once again had the nation's highest metro unemployment rate, coming in at 30.2%, up from 29.4% a month earlier.
Property tax revenues should rise by 1.6% this year, but then decline for the next three years.
Cities are also bracing for reduced aid from state governments, which are facing $26 billion in shortfalls for the current fiscal year. States have been slashing spending for local aid, social services and education as they look to balance their budgets. Neither states nor cities are allowed to run deficits, in most cases.
Stimulus kicks in
Cities are expected to receive billions of dollars in stimulus funds in the next 18 months.
Stimulus dollars will help Riverside, Calif., replace four police motorcycles and 14 patrol cars, as well as maintain the positions of two department staffers. These funds are part of $12 million in stimulus grants the city is expecting to receive in coming months. The money will also go towards efforts including homelessness prevention and energy-saving initiatives.
But little of that will help the city balance its budget, said Riverside Mayor Ron Loveridge. City leaders had to cut nearly $25 million out of the 2009-2010 budget, which totals $190 million. They didn't even consider stimulus funds when preparing the spending plan.
"The stimulus will help, but boy it won't be any silver bullet," said Loveridge.
Elsewhere, stimulus funds may do more to make up budget reductions. Some cities will receive money for infrastructure projects in 2010, which will help offset the cutbacks in capital initiatives, Hoene said.
"It will hit the local government level at a time when they are most in need," he said.

Features

These Fortune 100 employers have at least 350 openings each. What are they looking for in a new hire? More

It would be the world's second-biggest economy. See how big companies' sales stack up against GDP over the past decade. More