Saving homeowners - 1 at a time
Housing counselors in New Haven struggle to help an avalanche of distressed borrowers avoid foreclosures.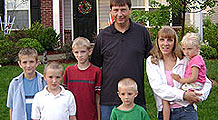 Homeowners in trouble are having mixed results applying for President Obama's foreclosure prevention plan. CNNMoney.com readers tell us their tribulations and triumphs trying to get their loans modified or refinanced.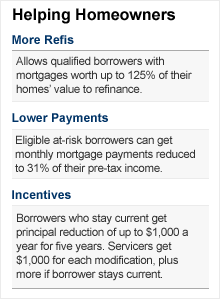 NEW HAVEN, Conn. (CNNMoney.com) -- Whenever Alice Steinhardt walks into her office, her phone's message light is red.
A foreclosure prevention counselor at Neighborhood Housing Services of New Haven, Steinhardt helps delinquent homeowners catch a break from their loan servicers. She usually gets more than a dozen calls a day, most from panicked homeowners, and a few from bank representatives she has been hounding on behalf of her clients.
Somehow, she has to find enough time in her day, which usually stretches from 9 a.m. to well past 6 p.m., without a lunch break, to follow up on the calls. This is on top of meeting with clients, filling out and faxing loan modification forms and spending hours on the phone negotiating with servicers.
"The only way to really keep up would be to live here at the job," said Steinhardt, an artist by calling who has worked at NHS for seven years. "It's unrelenting."
Like Steinhardt, other housing counselors around the country are trying to cope with an avalanche of troubled borrowers looking for help.
The housing meltdown is into its third year, but counselors and servicers say their workloads are only increasing as the recession takes its toll and a growing number of distressed homeowners try to access President Obama's loan modification program.
More than 13.5% of loans are delinquent or in foreclosure, up from 9% a year ago, according to the Mortgage Bankers Association. Prime loans, given to borrowers with the best credit backgrounds, are defaulting at the highest rates as unemployment continues to rise.
CNNMoney.com spent a day in New Haven with Neighborhood Housing Services to chronicle how its five foreclosure prevention counselors are working to stem the crisis. The agency is on track to work with 1,000 clients at risk of losing their homes this year, double its 2008 caseload. Steinhardt has gotten 147 new clients since January.
While many people from Obama on down have told servicers they must do more to help borrowers, the counselors in New Haven say they are arranging more workouts under the Obama plan than they ever have before. Sure, it can take faxing the same document several times, waiting a long time on hold or speaking to multiple representatives. But the counselors take that as a given by now.
"It's a world of difference," said Bridgette Russell, managing director of NHS' HomeOwnership Center. "Before, getting a modification was like pulling teeth. Now, modifications are not a foreign word. Slowly, but surely it's getting better."
Rough road to modification
Still, the process is far from smooth. Russell herself had to scramble recently to rescue Clarence and Lena Cummings' application after their servicer told the New Haven couple their file was closed.
The Cummings, who had been periodically out of work because of diabetes and asthma, were hoping to get out of their adjustable-rate mortgage that carried a 10.25% interest rate and a $1,921 monthly payment. They applied for a modification under the president's plan in March and called every few days to check their status. Meanwhile, they fell nearly $5,900 behind in payments.
Always told their case was "in review," Lena Cummings was shocked to hear in mid-August that the file was closed because of outdated financial documents. A few days later, Russell succeeded in reopening the application by contacting the servicer and sending in updated information.
"It's been a long, long process," Russell said.
Even when servicers are responsive, the calls aren't always quick and easy.
One late August afternoon, Steinhardt spent more than 30 minutes on the phone with Carrington Mortgage Services trying to get modification application forms for another client.
Tina Dowling came to NHS after falling $15,000 behind in her mortgage payments after a series of injuries kept her from her job in the New Haven Public Works department. On top of that, she had to evict a tenant from a rental unit in her house, temporarily depriving her of a much-needed income stream.
Steinhardt and Dowling had met the previous week to compose a hardship letter to Carrington Mortgage. Dowling, who's looking to reduce her $1,874 monthly payment, came back to Steinhardt's cramped office for a call scheduled by a Carrington Mortgage agent. The New Haven resident wanted Steinhardt to do the talking.
Looking for help
Here's how the next two hours unfolded.
Steinhardt calls Carrington Mortgage, but the representative is not at her desk. She leaves a message, but doesn't stop there. The counselor speaks to three agents in order to get the necessary paperwork.
Her efforts are almost derailed when the third agent initially says he can't talk to her because she doesn't know the password for NHS counselors. Fortunately, Dowling provides the necessary verification information.
Very upbeat, the agent says he can e-mail the forms and prequalify Dowling in 20 minutes if she provides all the documents. Steinhardt closes her eyes and rubs her forehead as she recites her e-mail address.
While they wait to make sure the e-mail arrives, Steinhardt and the agent go over the paperwork that must accompany the application.
The e-mail never comes that afternoon, and the agent says the Web site doesn't have the most updated forms. Finally, he says he'll fax the documents and tells her to send the package to the original representative, who's handling the case. Steinhardt hangs up.
After receiving the fax, Steinhardt and Dowling fill out Carrington Mortgage's hardship affidavit and the financial disclosure form. Though she found the call with the servicer very confusing, Dowling said she was relieved because "he sounds like he wants to help."
At 4:56 p.m., she departs, promising to return within a few days with her 2008 tax returns, an insurance form and some recent pay stubs.
Dowling delivers the documents a week later. After unsuccessfully trying to fax in the paperwork, Steinhardt e-mails it Wednesday to agent handling the case. The agent e-mailed back twice that she needs more documentation. Steinhardt hopes the file will be complete by Thursday afternoon.
For its part, a Carrington Mortgage representative says the company takes care to ensure customers have the information they need to help the modification process go smoothly.
For Steinhardt, the session with Dowling is all part of the job. A low-key woman who keeps candy on her desk to make distressed clients feel more at ease, Steinhardt said her interactions with servicers and borrowers usually don't frustrate her. Or, at least, she doesn't let it show.
"I always have a smile on my face," she said.
Steinhardt's day, however, isn't over. She has to write down detailed notes on everything that transpired during the two-hour meeting to prepare for the next time she works on Dowling's case.
And, of course, there are still seven voicemails to retrieve.
Have you suffered a setback because of the economy? What are you doing to overcome it and get back on track? If you've been confronted with some challenge during this recession but are fighting back, send an email to realstories@cnnmoney.com and you could be profiled in an upcoming segment on CNN. For the CNNMoney.com Comment Policy, click here.

Features

These Fortune 100 employers have at least 350 openings each. What are they looking for in a new hire? More

It would be the world's second-biggest economy. See how big companies' sales stack up against GDP over the past decade. More