CNN Poll: U.S. still in a serious recession
Poll says 86% of Americans believe the U.S. is still in a recession, while Fed chairman is more optimistic.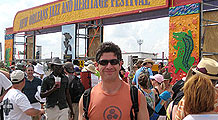 From a half-price deck to spending time with the kids to traveling around the country in pursuit of the best party, these people are making the most of the downturn.
Map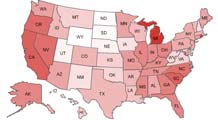 WASHINGTON (CNN) -- Americans are not nearly as optimistic about the economy as the chairman of the Federal Reserve seems to be, a national poll released Thursday shows.
Eighty-six percent of those questioned in a CNN/Opinion Research Corporation survey said they think the United States is still in a recession, with 13% saying the nation's economic downturn has ended. According to the poll, 42% say the country is in a serious recession, 35% call it a moderate recession, and one in 10 characterize it as a mild recession.
Earlier this week, Federal Reserve Chairman Ben Bernanke said the recession is very likely over, although the job market will continue to struggle for some time.
"Economists have typically called an end to recessions long before the public thinks hard times have passed," said CNN Polling Director Keating Holland. "The recession of the early 1990s was officially over by 1991, but a majority of Americans didn't think the recession was over until late in 1993."
The poll also suggests that only a small minority, 9%, say their family's financial situation is better now than it was a year ago. Nearly four in 10 say they're worse off now than they were a year ago, and just over half said their family's financial situation was about the same.
"Rural America seems to feel the pinch more than the rest of the country," Holland said. "Nearly half of people who live in rural areas say they are worse off, compared to 37% of suburbanites and 29% of people who live in cities."
Looking to the future, nearly half of those polled say the stock market will be higher a year from now, with three in 10 saying the markets will be at about the same level and 18% feeling the markets will be lower.
According to the survey, 44% say home values in their area will be about the same a year from now, with 35% predicting house prices will be higher and 22% suggesting values will be lower than they currently stand.
The CNN/Opinion Research Corporation poll was conducted September 11-13, with 1,010 adult Americans questioned by telephone. The survey's sampling error is plus or minus 3 percentage points.

Features

These Fortune 100 employers have at least 350 openings each. What are they looking for in a new hire? More

It would be the world's second-biggest economy. See how big companies' sales stack up against GDP over the past decade. More