Bank of America pays $425M to end U.S. guarantee
Bank of America says it has reached an agreement with U.S. regulators to end the program that was put in place to help it digest Merrill Lynch.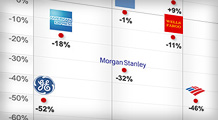 Key financial firms received a wide range of assistance during the past year. But scroll over their stocks and you'll find few winners – and plenty of losers.
More
NEW YORK (CNNMoney.com) -- Bank of America said Monday it will pay the U.S. government $425 million to end a federal backstop of assets related to its purchase of troubled brokerage Merrill Lynch earlier this year.
The government agreed to guarantee $118 billion in assets in January as part of a plan to help BofA absorb Merrill Lynch, which was on the verge of failure. In exchange, BofA agreed to pay the U.S. a fee of 3.7%.
On Monday, BofA said it will pay $425 million to the Treasury Department, Federal Reserve and Federal Deposit Insurance Corporation to terminate the agreement.
The Charlotte, N.C.-based bank said Monday's decision was part of a broader effort "to reduce its reliance on government support and return to normal market funding."
Bank of America (BAC, Fortune 500), like many of its peers, received billions of dollars in taxpayer-funded bailouts last year as the financial crisis unfolded. But the banking industry has regained its footing in recent months, and many big financial institutions are now looking to distance themselves from the government.
"We are a stronger company than we were even a few months ago," said Kenneth D. Lewis, chief executive officer and president of BofA, in a statement.
Despite continuing challenges from rising credit costs, Lewis said he believes the bank is poised "to emerge from this current economic crisis as one of the leading financial services firms in the world."

Features

These Fortune 100 employers have at least 350 openings each. What are they looking for in a new hire? More

It would be the world's second-biggest economy. See how big companies' sales stack up against GDP over the past decade. More