In bid for Guaranty Bank, FDIC gave foreign bank an edge
In the recent sale of the Texas' troubled Guaranty Bank, the FDIC appeared to favor Spain's Banco Bilbao over Blackstone, TPG, and other American private equity investors.
Map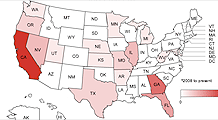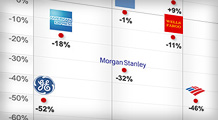 Key financial firms received a wide range of assistance during the past year. But scroll over their stocks and you'll find few winners – and plenty of losers.
More
NEW YORK (Fortune) -- One of the fundamental tenets of a free market is that in an auction the rules of the game should not give one bidder a fundamental advantage over another bidder. Sadly, that may not have been the case last month when the FDIC oversaw the sale of Texas-based Guaranty Bank. On August 21, Sheila Bair, the chair of the FDIC, declared Spain's second-largest bank -- Banco Bilbao Vizcaya Argentaria SA -- the winner of a spirited auction to buy Guaranty Bank instead of a consortium of U.S. investors including Blackstone Group and TPG.
The deal was yet another reminder of Bair's bias against private equity firms buying failed banks. Certainly, there are cases where private equity investors have made a hash of the banks they have acquired and of course private equity firms may not make the highest bid in a given situation, but it appears Bair is tarring an entire industry with a wide brush. It would seem the FDIC is being less than accommodating to an important potential source of funding for struggling banks at the very moment when the FDIC's own insurance fund is running low given the 94 bank failures so far in 2009.
Bair's spokesman did not respond to a request for comment.
The first foreign bank to get FDIC funds
Before getting into whether the FDIC stacked the deck against private equity, let's examine the facts: In 2007, Banco Bilbao (BBV), which as its name suggests is based in Bilbao, Spain, bought Compass Bancshares, Inc., the third largest bank in Alabama and the fourth largest bank in Texas. Banco Bilbao used Compass -- now called BBVA Compass -- to make the acquisition of Guaranty, which had $13.5 billion in assets and $12 billion in deposits. Guaranty, with 103 branches in Texas and 59 branches in California, failed because it "was in an unsafe and unsound condition because of the deteriorating quality of its loan portfolio, critically deficient earnings, capital insolvency and strained liquidity position," as the bank's regulator, the Office of Thrift Supervision, said in a recent statement.
In a press release about Banco Bilbao's acquisition of Guaranty, the FDIC said Banco Bilbao would assume Guaranty's deposits and about $12 billion in assets. Banco Bilbao and the FDIC agreed to share losses on $9.7 billion of those assets, with the FDIC assuming 80 percent of losses up to $2.3 billion, and 95 percent of additional losses. Banco Bilbao is the first foreign bank to be allowed to use FDIC funds to buy a defunct U.S. bank, and the Guaranty failure will cost the FDIC's deposit fund some $3 billion.
Different terms for different bidders
But untold, so far anyway, in the Guaranty Bank saga is the story of the deal itself. By a 4-1 vote in late August, the FDIC five-member board approved new guidelines for the role private equity will be able to play in buying failed banks. The new rules will require private equity investors to put up twice as much capital as a strategic buyer (i.e. another bank or financial services company) and require them to hold the bank for at least three years before selling.
The deal frenzy leading up to the FDIC's selection of Banco Bilbao to takeover Guaranty Bank is a case in point. Besides Banco Bilbao and U.S. Bancorp (USB, Fortune 500), other financiers were in the hunt for Guaranty. One serious contender was a consortium of private-equity firms including Blackstone (BX) and TPG, which had lost $1 billion of its investors' money in its ill-fated minority stake in Washington Mutual. This private equity group was led by veteran bank investor Jerry Ford and his new $1.5 billion fund, Chicago-based FlexpointFord. (In the interest of full disclosure, I should point out that I am a miniscule investor in FlexpointFord. That said, I have as much say in what the firm invests in as the delivery man from the local deep-dish pizzeria.)
Blackstone, TPG, and the other investors were prepared to back Ford as the new management and were together willing to invest at least several hundred million dollars of equity in a deal for Guaranty Bank. (A spokesman for Blackstone confirmed it was a bidder for Guaranty Bank along with TPG and FlexpointFord.) So Ford and his team immersed themselves in New York and in Texas for weeks of serious due diligence -- a detailed financial investigation -- of Guaranty. A billionaire, Ford was no neophyte to Texas and California banks. Together with his one-time partner, billionaire Ron Perelman, Ford assembled a group of five failed Texas savings-and-loans in the 1980s -- together called First Gibraltar -- before selling the bank to Bank of America (BAC, Fortune 500) for a windfall.
The FDIC vets Blackstone and TPG
In a perfect world, Blackstone, TPG and the other private-equity investors would also have plunged into the due diligence process. But in the Guaranty Bank situation, the FDIC and other federal regulators need to vet and to approve potential investors -- a lengthy process that can make it difficult for private equity bidders to do the kind of detailed due diligence they normally like to do. But the FDIC did not approve Blackstone and TPG until late in the process; just days before the final bids were due. Usually, investors would examine a potential opportunity for weeks, if not months, before bids were due. The odd thing was, of course, that TPG and Blackstone were well known to D.C. regulators, since TPG had bought a stake in Washington Mutual and Blackstone was part of the private equity consortium that bought BankUnited in Florida when no commercial bank expressed interest in that bank earlier this year. "We can't figure out why it took so long for us to be approved," a person at one of the investment firms said in an interview.
Aside from the FDIC making the process more difficult for the private-equity players, the FDIC also made the playing field uneven by requiring Ford's consortium to make its bid -- which would have created a new company to assume the deposits and assets of Guaranty -- contingent on using at least 10% equity. In contrast, Banco Bilbao could use its Southern regional bank, BBVA Compass, as its stalking horse and put down only 4% to 5% equity, or, in FDIC parlance, have enough capital to be simply "well-capitalized." Since the private equity investors would have had to use at least double the equity of Banco Bilbao, its bid -- by definition -- would have to be lower to get the same return on that equity as could Banco Bilbao using less equity.
Think of it this way, if Banco Bilbao and Ford were both bidding on the same house, Banco Bilbao would be able to get a mortgage for 96% of the purchase price and Ford could only get a mortgage for 90% of the purchase price. Naturally, Banco Bilbao would be able to pay more for the house, all else being equal, with the same amount of equity. "The math just produces a different price," Ford told Fortune. The FDIC therefore severely stacked the deck against the bid from the private-equity players and made their bid less competitive than it otherwise could have been.
Will the FDIC alienate private investment in failed banks?
The FDIC's policies have many financiers scratching their heads wondering why the FDIC, which has the authority to differentiate one bidder from another based on the quality of the management, would want to disadvantage one entire group of potential bidders -- the private equity investors. This is all the more curious as the number of bank failures is increasing and failing banks will likely need capital from non-governmental sources. "There is a chance of alienating capital," said Ford. "And maybe they don't need it.... But if they do need it" -- and he thinks the FDIC will -- "then why go out of their way to alienate this capital by establishing the new policies." Added another member of the bidding consortium, "There is a suspicion of private equity that we cannot fathom. And for what? So that a foreign bidder can win the deal?"
Instead of how the FDIC structured the Guaranty Bank process, many in the private equity community believe the FDIC should simply decide how much capital is required to make a bank financially sound and then decide whether the proposed management team has the capability of executing a business plan in a failed bank situation. After that, there should be no differentiation between whether the new capital comes from private investors or from strategic investors. At least one member of the FDIC board voted against stacking the deck against private equity. John Bowman, the acting director of the Office of Thrift Supervision, voted against the new rules, arguing that the FDIC shouldn't force private-equity firms to invest more capital and have longer hold periods than other buyers.