These nonprofit CEOs are getting raises
Median salary for these executives climbed 7% in 2008 -- and one had his compensation nearly double.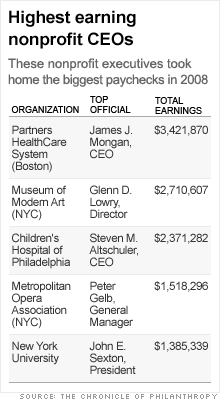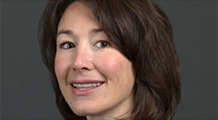 Which corporate women raked it in - and how much did they earn?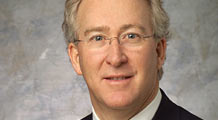 See how the best-compensated male executives' paychecks compare to the 25 best-paid women.
NEW YORK (CNNMoney.com) -- Nonprofit CEOs didn't feel the economic pinch in 2008 despite charitable giving having declined for the first time since 1987.
The Chronicle of Philanthropy reported on Monday that the median compensation for chief executives at the nation's biggest nonprofit organizations climbed 7% to $361,538. It also found that two-thirds of nonprofits maintained or increased compensations for their top executives.
"A large number of nonprofit executives still feel that their pay is a lot lower than it would be at businesses," said Stacy Palmer, editor of The Chronicle of Philanthropy. "They think their salaries are set appropriately and more of a pay cut isn't needed,"
In fact, the Bill & Melinda Gates Foundation decided to institute a salary for its CEO for the very first time. When Jeffery S. Raikes came on as the chief executive, they established a $990,000-per-year salary even though Raikes had not sought to be paid.
The foundation, according to the Chronicle, did not want to establish a precedent of not paying its chief executives, and it wanted "to compensate that position accordingly."
The nation's highest earning nonprofit CEO is J. Mongan, chief executive of Partners HealthCare Systems in Boston. He got a 99% pay bump in 2008, meaning he took home $2.7 million, including nearly $1.3 million in deferred compensation. He also received nearly $700,000 in benefits, which pushed his total compensation above $3 million. Nonprofit hospitals have the highest median CEO pay at more than $830,000.
Museum of Modern Art director Glenn D. Lowry will take a 15% pay cut this year, but in 2008 he more than doubled what he earned in 2007. He banked $2.1 million, counting deferred compensation, on top of a $336,000 housing allowance that subsidizes his residence in a high-rise condo complex that sits above the museum.
"In a lot of cases, the CEO is doing the job of a whole other person now," Palmer said. "A lot of nonprofits have consolidated their executive teams to fewer positions. So since some executives are working more than before, they say they don't need a pay cut."
But there is a flip side. Nearly 30% of organizations told The Chronicle that their top executives took pay cuts, refused raises or bonuses, or froze their compensations in 2008 due to the recession.
"Charity officials have had to make a lot of cuts on their staffs and pay cuts all around, so they want to make sure they're taking the same or even bigger cuts to boost staff morale," Palmer said.
While the median cut was 10%, the chief executive at Guidestar USA, an organization that makes data about charities accessible to the public, slashed his compensation by 27%. By not accepting a bonus, retirement match or salary increase, he kept his compensation to $328,832.
The chief executive of the American Red Cross, Gail J. McGovern, earned $467,252 in 2008, turned down a merit raise and bonus opportunity for 2009.
As the public and government scrutinize pay packages earned by leaders at failing financial companies, there could be a spillover into nonprofits. (See the 5 most overpaid CEOs.)
"Nonprofits are very affected by corporate America. There will definitely be pressure to lower pays" Palmer said. "More executives may choose to take pay cuts especially if they see a number of their colleagues doing the same."

Features

These Fortune 100 employers have at least 350 openings each. What are they looking for in a new hire? More

It would be the world's second-biggest economy. See how big companies' sales stack up against GDP over the past decade. More