Life after Lewis: What's next for BofA?
The lack of a clear successor and ongoing Merrill Lynch probes likely to beleaguer nation's largest bank.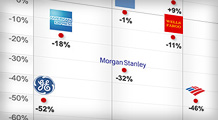 Key financial firms received a wide range of assistance during the past year. But scroll over their stocks and you'll find few winners – and plenty of losers.
More
NEW YORK (CNNMoney.com) -- The exit of Bank of America chief executive officer Ken Lewis may silence some of his staunchest critics, but his departure is raising more questions than answers about the fate of the nation's largest bank.
Chief among them is who would take the reins for Lewis when he officially departs the firm at the end of this year.
So far, speculation continues to swirl around a handful of names, including Alvaro de Molina, the current CEO of GMAC. He spent 17 years in a variety of roles at Bank of America, most notably as its chief financial officer.
Bill Winters, the recently ousted co-chief of JPMorgan Chase's investment bank, has also been mentioned as a contender. So have several current BofA executives, including Brian Moynihan, who was recently appointed to oversee the company's retail banking operations.
BofA announced the new role for Moynihan in early August, establishing what many believed to be the company's succession plan. Lewis' retirement, however, will now force the bank's directors to make a decision much sooner than they had hoped.
"There are names that are circulating but there isn't a perfectly logical successor," said David Dietze, chief investment strategist of New Jersey-based Point View Financial Services, which owns shares of Bank of America (BAC, Fortune 500).
The lack of a clear successor to replace Lewis, who has claimed a lot of the credit for transforming BofA into one of the biggest success stories in banking in recent years prior to the controversial purchase of Merrill Lynch, raised the eyebrows of some analysts.
"While Ken's departure may be viewed positively near term, we view not announcing a successor, or even an interim CEO, as a negative," Fox-Pitt Kelton analyst Andrew Marquardt wrote in a note to clients Thursday.
Shares of BofA, which have quintupled since their March lows, edged lower in afternoon trading Thursday.
End of Merrill woes?
Of course, it would be hard to talk about BofA's future without discussing the Merrill deal.
The firm is facing numerous legal actions related to the merger, including an ongoing Congressional investigation about what the government's role was in pushing to complete the Merrill deal after it became clear last year that Merrill's losses would be greater than expected.
There is also a securities fraud suit brought by the Securities and Exchange Commission that alleges the company misled investors about bonuses paid to Merrill Lynch employees.
BofA originally agreed to settle with the SEC for $33 million, but that deal was rejected by a federal judge last month. The judge ordered the pair to head to trial next year.
But even after Lewis' departure, it seems unlikely that he or the company will be free of scrutiny.
In a statement issued Wednesday, Rep. Edolphus Towns, D-N.Y. characterized Lewis as being "at the center" of the Merrill controversy, adding that there were many "unanswered questions" about the merger that still needed to be resolved. Towns, the chairman of the House Committee on Oversight and Government Reform, has been leading the Congressional probe.
New York Attorney General Andrew Cuomo, who has been moving to bring charges against the bank and possibly its executives over the deal, also showed no signs of backing down.
"Ken Lewis' decision to step down will have no impact on our continuing investigation," his office said in a statement.
Righting the ship
Still, the news of Lewis' departure was cheered by some long-time critics of the 63-year-old bank chief.
Jonathan Finger, a partner at the Houston-based investment management firm Finger Interests who led a successful shareholder campaign aimed at stripping Lewis of his title of chairman last spring, said that the company will now be able to focus on the various operational challenges it now faces.
"I do think shareholders will be best served by an executive who can manage the business rather than the various regulatory and legal issues," he said. "It became such a distraction."
What BofA will be losing, however, is an executive who almost single-handedly helped grow the Charlotte, N.C.-based lender into the powerhouse it is today.
It also remains to be seen just how capable the new CEO will be in helping to end the firm's ongoing credit losses.
"A near double-digit unemployment rate is bad medicine for a bank that serves consumers, and I am disappointed in how we managed credit risk," Lewis wrote in a letter to employees Wednesday. "The next two quarters will be difficult."
The bank also still needs to pay back the government for the $45 billion in bailout funds it received.
"In short, the CEO may be gone, but the damage will remain," analyst Nancy Bush, founder of NAB Research, wrote in a note to clients Thursday.

Features

These Fortune 100 employers have at least 350 openings each. What are they looking for in a new hire? More

It would be the world's second-biggest economy. See how big companies' sales stack up against GDP over the past decade. More