400,000 jobless out of luck
A move in Congress to extend benefits for the unemployed has been slowed as lawmakers debate who should qualify.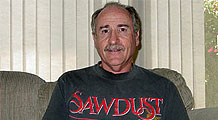 In July, CNNMoney.com told the stories of 4 out-of-work Americans who had just lost their unemployment benefits. Here's where they are today.
Map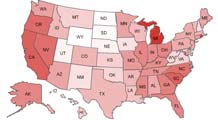 jobs by

Find a Job
NEW YORK (CNNMoney.com) -- As thousands of jobless Americans lose their weekly unemployment checks every day, Congress is still debating who should qualify for a benefits extension.
Two weeks after the House passed an extension, Senate Democrats Thursday introduced a bill to lengthen unemployment insurance by up to 14 weeks in all states. Those living in states with unemployment levels greater than 8.5% would receive an additional six weeks.
The proposal would be funded by extending the longstanding federal unemployment tax levied on employers through June 30, 2011.
"This agreement recognizes the need to extend unemployment benefits for workers in every state whose unemployment benefits have run out or will do so in the next several weeks," said Senate Majority Leader Harry Reid, D-Nev.
The Senate proposal differs significantly from the House measure, which lengthens benefits by 13 weeks only for those in high-unemployment states. The House bill would extend the tax through next year.
Senate Republicans, who have expressed general support for extending benefits, blocked the Senate from quickly passing on Thursday.
"I have no doubt that [at] the appropriate time we'll be able to work out some kind of agreement," said Sen. Jon Kyl, R-Ariz. "But our side is going to need some time to look at it."
That pushes consideration of the bill into next week.
If the measure makes it through the Senate, it must then be reconciled with the House version.
As Congress debates the measure, 400,000 people ran out of benefits in September and another 208,000 are set to lose them this month, according to the National Employment Law Project. Some 1.4 million people will stop receiving checks by year's end if Congress doesn't act, according to the employment law project.
The chorus calling for a benefits extension grew louder after the government reported on Friday that unemployment hit a 26-year high of 9.8% in September. Employers shed a higher-than-expected 263,000 jobs last month.
The "employment report is a marching order for Congress to pass unemployment benefit extensions to all states, quickly," Christine Owens, executive director of the National Employment Law Project, said last week. "With six unemployed workers seeking jobs for every available opening out there, the path to recovery remains steep."
Have you turned into a saver because of the recession? Do you plan to start spending freely again once the economy turns around? Please email your stories to CNNMoney.com and you could be part of an upcoming article. For the CNNMoney.com Comment Policy, click here.

Features

These Fortune 100 employers have at least 350 openings each. What are they looking for in a new hire? More

It would be the world's second-biggest economy. See how big companies' sales stack up against GDP over the past decade. More