Bank of America to disclose Merrill details
The bank agrees to hand over previously undisclosed information about its purchase of Merrill Lynch to U.S. regulators.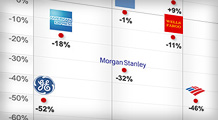 Key financial firms received a wide range of assistance during the past year. But scroll over their stocks and you'll find few winners – and plenty of losers.
More
NEW YORK (CNNMoney.com) -- Bank of America Corp. has agreed to share previously undisclosed information related to its purchase of Merrill Lynch with regulators investigating whether the company misled shareholders, the Securities and Exchange Commission said Tuesday.
The agreement would give regulators access to details concerning the bank's failure to disclose what it knew about pending losses at Merrill when it bought the troubled brokerage last year.
The move came after a federal judge last month rejected Bank of America's $33 million settlement with the SEC, which alleged the bank had misled investors about $3.6 billion of bonuses paid to Merrill employees.
The accord, which is subject to court approval, would "allow us to assess further details surrounding the bank's failure to disclose to its shareholders critical information concerning the award of bonuses to Merrill employees," the SEC said in a statement.
It would also give investigators details concerning whether BofA sought to invoke a "material adverse change clause" in its agreement to merge with Merrill, which would have allowed it to walk away from the deal.
BofA decided to release the information, which was protected under its attorney-client privilege, in response to "a lot of pressure in multiple venues for these additional documents," said Larry Di Rita, a Bank of America spokesman.
"We decided to waive [the privilege] in this case because we have nothing to hide," he said. "We acted appropriately in our deliberations and disclosures."
The SEC said the bank also agreed to give regulators access to its communications with the Federal Reserve, the Treasury Department and other federal officials regarding the provision of federal assistance in connection with its purchase of Merrill.
Bank of America (BAC, Fortune 500) chief Ken Lewis, who recently announced plans to step down at the end of the year, has argued that Fed and Treasury officials pressured him to buy Merrill, which was on the verge of collapse, to help stabilize the financial markets.
Lawmakers criticized Lewis in June for using the threat of scuttling the Merrill deal as a so-called "bargaining chip" for more government assistance.
BofA also faces investigations by Congress and New York State Attorney General Andrew Cuomo over its handling of the Merrill acquisition and subsequent bonus payments.
In a letter to Cuomo's office Monday, BofA said the newly disclosed details will also be available to state officials and Congress.

Features

These Fortune 100 employers have at least 350 openings each. What are they looking for in a new hire? More

It would be the world's second-biggest economy. See how big companies' sales stack up against GDP over the past decade. More