Obama & Google (a love story)
The President relies on Google execs for tech and economic advice as his own regulators scrutinize the online-ad behemoth. Is the romance starting to sour?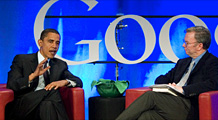 The president may be critical of corporate America, but he has a soft spot for one very big business: Google. Here's how the two got so intertwined.
(Fortune Magazine) -- No one can accuse President Barack Obama of cozying up to corporate America.
From his denunciations of Wall Street greed to his critiques of the auto manufacturers, Obama and his team have done little to disguise their mistrust of big business -- except when it comes to one very large, very influential technology company.
In Google (GOOG, Fortune 500), the $22-billion-a-year online-advertising Goliath, Obama appears to have found a corporate kindred spirit. Google executives, led by CEO Eric Schmidt and co-founders Sergey Brin and Larry Page, are scary smart and supremely self-confident (much like the President himself), and despite their company's growing power, they depict themselves as advocates for consumers.
"What we shared is a belief in changing the world from the bottom up, not from the top down," Obama told Google employees during a 2007 visit to its headquarters in Mountain View, Calif.
Indeed, two of Obama's economic tenets -- support for more U.S.-educated engineers and the expansion of Internet services to poor and rural areas -- grew out of a visit to Google headquarters in 2004, an encounter Obama recalls in his book "The Audacity of Hope."
Google managers and employees were some of the strongest supporters of candidate Obama, donating around $803,000 to his presidential campaign, according to the website OpenSecrets.org. Among corporate employees, only staffers at Goldman Sachs (GS, Fortune 500) and Microsoft (MSFT, Fortune 500) gave more.
CEO Schmidt actively stumped for the candidate and served as an informal economic adviser during the campaign, and after Obama was elected, Schmidt and other Google executives forked over $25,000 apiece to help pay for the inaugural celebration.
Because the company and administration are so like-minded, it should come as no surprise that Google executives soon found themselves assuming roles in the Obama administration.
Nevertheless, Google's newfound access in Washington is striking for two reasons: Obama and his team pride themselves on maintaining a distance from corporations -- before taking office the President pledged to close the "revolving door" of industry executives who go on to regulate their former corporate peers.
Google, meanwhile, likes to portray its Washington operation as a quasi-academic resource that's above the political fray. Politicians and their staffers "are sometimes taken aback by the fact that we don't always act the way that other companies act," says Bob Boorstin, a former Clinton White House speechwriter who works on freedom of expression issues in Google's Washington, D.C., office. "What we offer is technological expertise ... It's a company that's a think tank, or a think tank that's a company."
Either Google is very naive about the way Washington works, or it thinks everyone else is.
Yet neither Obama's anticorporate leanings nor Google's anti-"politics as usual" culture has stopped the two camps from collaborating closely. Schmidt sits on Obama's Council of Science and Technology Advisers. Google employees acted as advisers to the Obama transition team -- in one case Google executive Sonal Shah actually led a meeting, to the surprise of at least one attendee -- and a handful of ex-Googlers have joined the administration in various roles.
The most visible appointee is Google's former head of global public policy, Andrew McLaughlin, who was named deputy chief technology officer in June. McLaughlin's appointment raised eyebrows -- in his previous role McLaughlin championed Google's policy goals. Now he'll be in a position to shape policy that affects Google's rivals. White House spokesman Nick Shapiro says McLaughlin's appointment complies with the letter and spirit of the ethics standards Obama imposes on his administration.
Google's ties to the White House might have gone largely unnoticed -- the roles, after all, are relatively low level, unlike the cabinet-level corporate folks in previous administrations -- if the stakes weren't so high: Founded just 11 years ago, Google has emerged as one of the most innovative and disruptive forces in global business, and it is looking to dominate across a range of technologies.
While it remains primarily a company that helps consumers find information on the web -- and gets 97% of its revenue from advertisers that pay to reach those consumers -- Google is quickly moving into entirely new and diverse operations ranging from telecommunications to digitizing books to distributing premium video content. Its technology verges on omnipresent: Its servers are constantly gathering, storing, discarding, and distributing information about consumers.
Google's expansion has the potential to accelerate its already remarkable growth. Last year revenue climbed 31% -- and amazingly, it has expanded its U.S. market share in online searches to a dominant 65%. Its stock price hovers around $550 a share, bolstered recently by record-setting third-quarter earnings.
But Google's ambitions rankle big competitors in the tech, media, and communications sectors, and privacy hawks are starting to fret about the company's growing market power and its Big Brother-like trove of information, which, left unchecked, could be used in all sorts of questionable ways. Google's foes, which include battle-hardened regulatory veterans such as AT&T (T, Fortune 500), haven't been shy about nudging their friends in Washington.
And so the company, once virtually invisible in Washington, now finds itself in the cross hairs of regulators and lawmakers. Its much-discussed effort to digitize books has sparked an investigation by the Justice Department's antitrust division over whether its plan to create a worldwide electronic library amounts to a monopolistic online land grab.
Similarly, the Federal Trade Commission, concerned over privacy issues, has begun reviewing behavioral advertising -- ads based on your recent online activity -- and some lawmakers want to regulate web ads. An upcoming battle over regulation of the Internet -- Google favors a policy that prohibits telecom providers and cable operators from interfering with any content that runs on those networks -- pitches the tech giant against the powerful lobbying arms of companies such as Comcast (CMCSA, Fortune 500) and Verizon (VZ, Fortune 500).
The various battles will surely test Google's kinship with Obama as politicians seek to monitor, discipline, and regulate the company. But for Google, the question isn't whether its ties to Obama will help shield the company from investigations and new rules (it probably won't: Consider that Obama's own appointee is leading the antitrust crusade).
Google's challenge in D.C. is to try to maintain its pro-consumer, unsullied "think tank" image as it enters into potentially hostile battles with regulators, lawmakers, and corporate lobbyists who are better staffed and more experienced in D.C.
"Google is still caught up in its self-identified uniqueness," says Rob Atkinson, a tech adviser to Obama's transition team who is also president of the nonpartisan Information Technology and Innovation Foundation, a Washington research institute. "But the cachet goes away the more it starts to act like a company. Google is a company and has company interests, and that is what Washington is all about."
Just four years ago Google had almost no presence in Washington. It had just one D.C.-based executive working on public policy. By 2008, however, the company had gotten religion: It unveiled new offices with room to grow, but with the bright colors and flat-panel televisions hung about the digs, it felt more like Silicon Valley than K Street. It now has a policy staff of about 20, including a former member of Rep. Spencer Bachus's (R-Ala.) staff who was hired to improve GOP ties; a top telecom aide came from Sen. Byron Dorgan's (D-N.D.) staff.
Still, the company publicly maintains that it is first and foremost a resource on technology issues in Washington -- going so far as to provide actual technological support to legislators and agencies that want to learn more about downloading online applications and other web services.
"I think in the long run it's the right way to succeed here, to stay focused on the big picture and what's good for consumers," says Alan Davidson, Google's D.C.-based head of public policy.
Google is trying to parlay its tech-expert status into access that will yield real financial returns. In September, at an event at NASA's Ames Research Center in Mountain View, Vivek Kundra, the federal chief information officer (the guy who oversees the government's tech spending), announced a new site that lets federal agencies buy applications that run on the Internet (known as cloud computing) instead of installing software on their computers.
Executives from Microsoft and Salesforce.com (CRM) were there, along with Sergey Brin, who arrived to the event late in his Tesla roadster, according to an account in the New York Times. Moments after the plans were unveiled, Google said it was launching a "government cloud" data center specifically designed for government agencies. Google's effort to sell its cloud software to businesses hasn't gained much traction, but "the U.S. government is probably the largest enterprise I know of," said Brin.
Google's fingerprints are visible on a broad new report on the future of the Internet and information commissioned by the Knight Foundation and the Aspen Institute. The paper calls for greater broadband deployments and "open-access policies." FCC chairman Julius Genachowski and the administration's chief technology officer, Aneesh Chopra, praised the report, saying it would guide Obama's web policy. The co-chair of the commission that wrote the report? Google vice president Marissa Mayer.
Obama and his tech regulators, including Genachowski, have long supported one of Google's top policy priorities: codifying "Net neutrality" rules that prohibit network providers like AT&T, Verizon, and the cable operators from prioritizing traffic and content that run on their networks.
Google would like lawmakers or regulators to ensure that Comcast can't decide to run more content from, say, video-content company Hulu.com than from YouTube because Hulu pays them more. Google and its supporters say they are fighting for the rights of consumers to have access to whatever content they want on the web without fear of a phone company deciding when or how fast to deliver it.
Opponents say Net neutrality would prevent them from throttling back a bandwidth hogging application that was slowing down service for everyone on the network; phone companies will also tell you that these are private networks they spend billions of dollars to maintain, and if they can't find ways to make money on them, they'll stop investing.
Google has earned its consumerist stripes by delivering great utility to Net users -- gratis. Its search engine, which the majority of Americans use, is subsidized by advertising. So are its e-mail service, its video site, and other fare. "How can anyone be mad when it's being so generous?" facetiously asks Ben Edelman, an assistant professor at Harvard Business School and a consultant for Google rival Microsoft. "It's brilliant."
In fact some consumer groups and regulators are starting to ask questions about the seemingly benevolent tech company. Late last year the Bush Justice Department advised Google it would file an antitrust lawsuit if the company pursued an ad deal with Yahoo (YHOO, Fortune 500), saying the arrangement would likely be bad for consumers. Google and Yahoo walked away from the deal.
Now Obama's antitrust chief, Christine Varney, is expected to get even tougher: Several months before her appointment, she hinted that Google might be the subject of antitrust scrutiny, à la Microsoft.
"Google is in a position to pick the winners in just about every web-based market," says antitrust lawyer Gary Reback, who is part of the charge against Google Book Search. And, he adds, "it can do it without anyone even knowing."
Mapquest, which, like Fortune, is owned by a unit of Time Warner (TWX, Fortune 500), a company that competes and cooperates with Google on many fronts. Mapquest was hurt by premium placement of Google's own map service when users did location searches. Adds Reback: "The only protection a web business has is competition in the search market."
Google agrees, and says its search competitors are always "one click away." But in many instances there simply are no emerging online rivals. Consider Google's effort to create a worldwide digital library. Varney is investigating the plan, even though the company has largely hammered out the terms of a digital library with publishers. Perhaps emboldened by the antitrust scrutiny, many authors and universities now fret about a monopoly controlling the world's books -- and the vast amount of information about readers that it could amass.
"Google will know what pages you read and how often you read it," says Cindy Cohn, legal director for the Electronic Frontier Foundation, which represented authors in the settlement with Google. "Google has come out with a policy saying it promises to protect our privacy, but it doesn't have any specific commitments -- it's pretty thin gruel."
Google's search engines regularly amass a huge quantity of information on American citizens. If you use Gmail to tell a friend about your upcoming ski trip, you might be surprised (and pleased, or not) to see ads for ski resorts popping up on your screen. If you use Google maps to pinpoint your location on a friend's porch in Tennessee, Nashville restaurant ads may pop up. Google responds to privacy concerns by noting that this is not human spying, but an automatic software scan (similar to a virus filter) that delivers relevant rather than random ads to users.
The Orwellian nature of Google's power -- its main business advantage -- is now starting to freak out some people. "Your search habits are the closest thing we have to mind reading," says Christopher Calabrese, counsel for the American Civil Liberties Union, who worries about the extent to which the government can force Google to share search records or other information.
Under federal law the government and law enforcement can use a warrant to compel Google to hand over e-mail messages sent less than 181 days earlier. Anything older requires a subpoena, and no one knows how often Gmail content is subpoenaed. "They're collecting a lot of information, and it's insufficiently protected by current law," Calabrese adds.
Rep. Rick Boucher, a Democrat from Virginia, is mulling legislation that would regulate online advertising. The Federal Trade Commission is also informally reviewing behavioral advertising practices by Google and others in the industry.
When lawmakers, opponents, or journalists start to ask questions about Google's motives in Washington or the marketplace -- something that's happening more and more -- Google executives almost always imply, ever so gently, that the questioner is being cynical. (Google executives rarely get defensive.)
Eric Schmidt recently suggested to a group of reporters that Google's culture was the strong hand that kept it from engaging in anticompetitive behavior: "If somehow we went into a room with the evil light, and we announced an evil strategy, we would be destroyed," he said. "There is a fundamental trust relationship between Google and its users." He shared similar comments, according to Wired, with Varney's predecessor at the Justice Department, who apparently was floored that "trust" was Schmidt's legal justification for pushing through the Yahoo/Google deal.
But some political groups simply don't trust Google. A pro-life group called Live Action is circulating a petition against Google for removing videos it had posted on YouTube, including one depicting a young girl trying to get an appointment for an abortion. "They won't specifically comment on why any individual video was removed," says David Schmidt, the group's spokesman.
Google points out that more than 30 other Live Action videos are on YouTube and says 20 hours of YouTube content is uploaded every minute, and that it makes thousands of judgment calls a day based on its community guidelines.
There's also no way of knowing if Google treats left-leaning groups any differently, though Google executives' support for Obama can only invite scrutiny -- that and the tremendous control the company has over everything we read and watch online.
If Google delivers a search result in the top position, we click on it. If it's buried, the site might as well not exist. "We won't (and shouldn't) try to stop the faceless scribes of drivel," Jonathan Rosenberg, a senior vice president at Google, wrote on one of the company's blogs earlier this year, "but we can move them to the back row of the arena."
That's a lot of power for one company to hold, and people in Washington are starting to notice. With regulatory battles looming, the romance between Google and Obama, like most affairs, seems unlikely to last forever.
Reporter associate Maha Atal