Eli Lilly stock: Hurt by patent loss
Can the drugmaker make up for lost revenue after its major products lose patent protection in the next few years?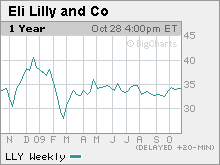 (Fortune Magazine) -- With patent expirations on the horizon and health-care policy in flux, should investors consider a dose of Eli Lilly?
It faces a big hit to its revenue as some of its major products like schizophrenia medication Zyprexa go off patent in the next few years. Its pipeline may not be enough to offset these declines.
Unlike some of its rivals, Lilly (LLY, Fortune 500) has stayed away from a major acquisition and instead is focusing on cutting $1 billion in costs by the end of 2011.
The Bear: Richard Purkiss, Atlantic Equities
My biggest concern is Lilly's strategic position. With five of its blockbusters losing exclusivity in the six years from the end of 2011, it loses a larger proportion of its revenues to patent expiry than its peers. The first expiration is Zyprexa in 2011, and all of the five are billion dollar drugs. Also, the company's pipeline is one of the weaker ones in the industry right now.
This combination means Lilly is likely to try to do more in buying new assets. The issue I have with that is not that management couldn't pick up some interesting assets, but that it may find itself in a bidding war and end up paying too much.
They paid a substantial amount to buy ImClone. That was in direct competition with Bristol-Myers (BMY, Fortune 500), which put in an initial offer for the company. Biotech company assets are very compelling and thus can trade at a considerable premium.
Also, Lilly has just launched Effient, which competes with Bristol-Myers' drug, Plavix. Its early launch trajectory doesn't look compelling. And worse still, AstraZeneca (AZN) recently showed clinical data for its pipeline drug Brilinta, another likely competitor that looks better. You could see not just the launch being relatively weak but the longer-run outcome even worse because another competitor launches later on, too.
My $31.50 price target is not that far below Lilly's current price, but this doesn't look like an attractive entry point given my long-run concerns.
The Bull: Linda Bannister, Edward Jones
Lilly clearly has its set of challenges because of the magnitude of patent expirations that it faces over the coming years. In addition, we don't think Lilly's near-term pipeline is going to be enough to offset the revenues that they lose to patent expirations. But we think the stock price more than reflects those challenges.
If you step back and look at what's happening to the entire sector, it's trading at lows not seen before on a price-to-earnings basis.
There are a few reasons for this. One is the concern regarding health-care reform and the impact that could potentially have on the industry. The second is the sizeable amount of patent expirations the industry faces over the next few years. Finally, pipelines really haven't been enough to offset these patent expirations.
We think that there are a lot of attractive valuations in the industry. We understand the challenges, but we just think the expectations are too low.
Pfizer (PFE, Fortune 500) and Merck (MRK, Fortune 500), two other companies facing sizable patent expirations, have taken a different approach by making large acquisitions that will help them navigate expirations.
Although it did buy ImClone, Lilly has decided on a go-it-alone strategy by cutting costs, working on developing its pipeline, and bringing drugs in development to market.
If it works out, Lilly could have more upside at the end of the day on a long-term basis. A new drug could have more material impact because it's going to be a smaller company.