Abu Dhabi goes Hollywood
How a state-owned Middle-Eastern media giant plans to create an entertainment capital in the middle of the desert.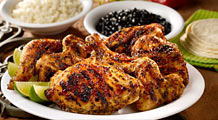 Recession or not, international restaurant concepts are fanning out in the world's hungriest fast-food market.
LOS ANGELES (Fortune) -- This weekend, Abu Dhabi plays host to its first Formula 1 Grand Prix, and in typical fashion, the capital of the United Arab Emirates is pulling out all the stops, with a brand new racecourse estimated to have cost $1 billion and festivities including performances from Beyoncé and Aerosmith.
As a first time visitor to the city-state, you can't help but notice at least two business-related themes -- its rivalry with nearby Dubai (a 90-minute drive northeast) and an attraction to big brand names as part of a massive effort to diversify away from oil dependency and become more cosmopolitan: There are plans for branches of the Louvre and a Guggenheim designed by Frank Gehry, as well as outposts of New York University and the Sorbonne.
Abu Dhabi Media Company is also embracing the West, as the company has done deals with some of the biggest names in Hollyworld, from Warner Brothers to Participant Films to National Geographic and, most recently, Sony Music and Universal Music Group.
But as I discovered after sitting down with CEO Ed Borgerding, state-owned ADMC is taking a fairly idiosyncratic approach as it tries to fulfill two considerable ambitions: to make smart investments on their own merits and to create what Borgerding calls "a pedagogical effect" that will help establish an indigenous media industry here amid the sand and sea.
The third, unspoken objective, of course, is not to be the newest round of overseas chumps to pump money into Hollywood without getting much to show for it except for the odd party invite.
That's why it was interesting to speak with Borgerding about the process (or lack thereof ) by which his company has made some of its Hollywood investments, because he is an atypical CEO. Just over the course of a drink at a conference held by the Abu Dhabi Film Commission, it became clear that investment bankers or Hollywood agents showing up at his door with deal sheets in hand is not the best way to forge a relationship with him.
Borgerding, who became ADMC's CEO in 2007 around the time it was formed, certainly has big media credentials -- he had a successful career at Walt Disney (DIS, Fortune 500) and ran and oversaw various international outposts of the media giant in places like India and the Middle East.
But he also jokingly pointed out that after leaving Disney in 2000, he decided to be a "soccer mom, or rather, soccer dad" to his two daughters in London, and wasn't sure he was going to work again.
Apparently, after several years, a question from one of his offspring about why daddy didn't go to work like the others coincided with a call from a headhunter that Borgerding thought he ought to take seriously. If that sounds unconventional, that's precisely the point: Borgerding is the antithesis of the striving Hollywood media executive, and that probably impressed Abu Dhabi's chieftains. Likewise, several of the deals that ADMC has struck happened organically and without much of a hard sell, if any.
For instance, through its Imagenation subsidiary, the company has committed to investing $250 million in film projects by billionaire philanthropist Jeff Skoll's Participant Films. As both Borgerding and Jim Berk, Participant's president explained it, part of the appeal of the partnership was that Participant didn't particularly need or go looking for the money.
And a recent decision to invest $10 million with Hollywood producers Walter Parkes and Laurie MacDonald came not out of any formal process to identify producers to back. Rather, it germinated over an informal lunch meeting when Parkes was visiting the region. (And, yes, Parkes MacDonald Productions does bring the élan of a first look deal with a certain Mr. Spielberg's DreamWorks (DWA)).
Outside of Hollywood, ADMC recently made an investment in nascent music video venture Vevo, making it a founding shareholder alongside Sony (SNE) and Universal Music Group, but the company's highest-profile investment is a deal struck with Warner Bros. (which, like Fortune and CNNMoney is part of Time Warner (TWX, Fortune 500)) in 2007.
That deal called for up to $1 billion to be invested in a theme park, films and video games, but the movie side of the deal has not resulted in much action yet. So far, the only Warner film which ADMC invested in was the recent Robert Rodriquez film Shorts, and it was a box office fizzle.
Borgerding was diplomatic and upbeat about it, but he noted that the projects his organization is invited to invest in don't tend to be big tentpoles like "Harry Potter" or the "Dark Knight." "We look at projects with them all the time," he says. "They have lots of partners, not just us."
He depicted other aspects of the alliance as healthy, with the Warner-licensed theme park's development proceeding and several video games that have been co-financed already on the market.
Abu Dhabi's media tentacles already reach into print, broadcast, Hollywood, the music industry and digital, but it's only two years in -- hence far too soon to say whether it will achieve its objectives of investing wisely and ultimately fostering a domestic industry. (One impediment: Apparently working in media and entertainment is not held in great esteem by Emirati culture).
Meanwhile, Hollywood types looking to do business there may find that conventional methods of suasion -- fruit baskets, Laker tickets, poolside parties and the like -- may fall short.