Recession or not, international restaurant concepts are fanning out in the world's hungriest fast-food market.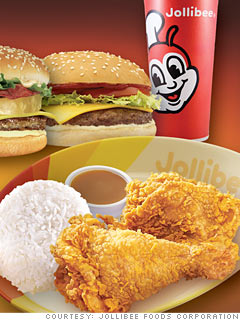 Origins: Philippines
U.S. stores: 26
Where: Las Vegas, New York, and throughout California
Jollibee is known universally as the McDonald's of the Philippines. The formula is pretty similar: burgers, hot pies, and a goofy mascot.
Of course, McDonald's pies are apple, not mango. The mascot is a clown, not a grinning honeybee. And Yumburgers, unlike Big Macs, can come with big slices of pineapple, plus sides of spaghetti or palabok, a shrimp-and-noodle dish.
Founded in the late '70s, Jollibee began bringing its flagship restaurants to the U.S. in 1998, but slowed after an initial burst of expansion in Filipino communities around California.
In recent years, however, Jollibee has started growing again with its first locations in Las Vegas and New York. "Given the recession, it's a good sign that we're bouncing back in the U.S.," says Jollibee U.S. manager Tommy King. "Yes we're McDonald's in the Philippines, but here we're nobody. We're starting to succeed outside of Filipinos, like with Hispanics. In this economy, we need all the help we can get."
NEXT: Pollo Campero