Jobless claims little changed
Initial filings for unemployment insurance slip by 1,000 in latest week.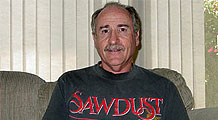 In July, CNNMoney.com told the stories of 4 out-of-work Americans who had just lost their unemployment benefits. Here's where they are today.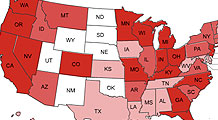 The duration of unemployment insurance varies by state. Here's how many weeks are available where you live.
More
NEW YORK (CNNMoney.com) -- The number of Americans filing for initial unemployment insurance were little changed last week, the government said Thursday, with a total figure that missed analysts' expectations.
There were 530,000 initial job claims filed in the week ended Oct. 24, down 1,000 from an unrevised 531,000 the previous week, the Labor Department said in a weekly report.
A consensus estimate of economists surveyed by Briefing.com expected 525,000 new claims.
The 4-week moving average of initial claims was 526,250, down 6,000 from the previous week's revised average of 532,250.
"I think this will be viewed as a positive report, though not strongly positive," said Robert Dye, senior ecnomist at PNC. "We typically see unemployment claims drop quickly at the start of of an improving cycle [of economic recovery], and level out mid-cycle."
" It's in the leveling out stage right now, so we'll only see modest improvements in jobless claims as the unemployment rate peaks in the next few months," Dye added.
Continuing claims. The government said 5,797,000 people filed continuing claims in the week ended Oct. 17, the most recent data available. The number was down 148,000 from the preceding week's revised 5,945,000 claims, and marked the second time since late March that continuing claims fell below 6 million.
The 4-week moving average for ongoing claims fell by 48,750 to 5,960,750 from the previous week's revised average of 6,039,500.
But the slide may signal that more filers are dropping off those rolls into extended benefits.
Continuing claims reflect people filing each week after their initial claim until the end of their standard benefits, which usually last 26 weeks. The figures do not include those who have moved to state or federal extensions, or people whose benefits have expired.
The Senate is currently considering a bill to extend unemployment benefits by up to 20 weeks. The legislation would lengthen benefits in all states by 14 weeks, and states with an unemployment rate higher than 8.5% would receive an additional six weeks.
But the final vote is not expected to happen until early next week. And if passed, it would have to be reconciled with a bill the House approved more than a month ago that extends benefits by 13 weeks in high-unemployment states.
State-by-state data. A total of 19 states reported a decline of more than 1,000 for the week ended Oct. 17, the most recent data available. Claims in Wisconsin fell the most, by 5,681, which a state-supplied comment said was due to fewer layoffs in the trade and manufacturing industries.
California was the only state that said claims increased by more 1,000, with 5,774 more jobless filing for unemployment insurance due to layoffs in construction, trade, and service industries and agriculture.
Outlook. Though GDP grew at a 3.5% annual rate in the third quarter and ended a year-long streak of declines, Dye said the economy is only starting to emerge from from the deep recession.
The unemployment rate has yet to peak beyond 10%, and until it does jobless claims will only fall by modest amounts.
Furthermore, the employment market will remain weak until business owners are ready to hire again.
"Survey after survey confirms that business owners remain uncertain about hiring next year in large part because of a lack of production in factories and uncertainty in the economy, including health care legislation, Dye said.
He added that a resolution in the health care debate before the end of the year would allow business owners to estimate their employment costs and resume hiring.

Features

These Fortune 100 employers have at least 350 openings each. What are they looking for in a new hire? More

It would be the world's second-biggest economy. See how big companies' sales stack up against GDP over the past decade. More