Pace of job losses slows
ADP report shows payroll decline lessens. Challenger report points to fewer job cut announcements.
Map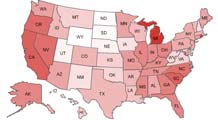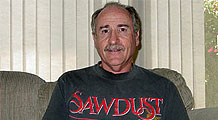 In July, CNNMoney.com told the stories of 4 out-of-work Americans who had just lost their unemployment benefits. Here's where they are today.
jobs by

Find a Job
NEW YORK (CNNMoney.com) -- The nation's employment picture continued to deteriorate in October, although the rate of decline continued to slow, according to two reports issued Wednesday.
Automatic Data Processing, a payroll-processing firm, said private-sector employers cut 203,000 jobs in October.
It was the seventh month in a row that the number of job cuts fell from the month before, but the October tally was slightly larger than expected.
Economists surveyed by Briefing.com had forecast a loss of 198,000 jobs last month.
While the job market has shown some signs of improvement, employers will continue to reduce payrolls for the next few months, according to Joel Prakken, chairman of Macroeconomic Advisers.
"The rate at which jobs are being lost is gradually shrinking," Prakken said during a conference call with reporters. "We're heading in the right direction."
However, payrolls will continue to decline through the end of the year before modest job growth resumes in the first few months of 2010, according to Prakken. The jobless rate, which stands at 9.8% nationwide, will peak above 10% sometime next year, he added.
Prakken said the U.S. economy will not return to full employment, which he described as 5% unemployment, until as late as 2014.
In a separate report, the pace of announced job cuts slowed, but the number of cuts announced in 2009 will soon exceed last year's total.
Job cut announcements by U.S. employers fell to 55,679 in October, 16% fewer than in September, according to outplacement firm Challenger, Gray & Christmas Inc. It was the third consecutive monthly decline.
"While there are still some trouble spots, the continued decline in job cutting activity across most industries is a positive sign that the economy is slowly improving," said John A. Challenger, chief executive of Challenger, Gray & Christmas, in a statement.
October's total was 51% lower than in October 2008, when nearly 113,000 layoffs were announced. But even though the pace is abating, almost 1.2 million planned layoffs have been announced so far this year -- 36% more than during the same period in 2008.
Challenger said the nation is only about 30,000 planned job cuts away from surpassing the total tally of 2008, which was 1,223,993.
Still Challenger remained cautiously optimistic, citing an uptick in GDP, an increase in manufacturing activity and a surprise gain in home sales.
"It appears that the light at the end of the tunnel is finally visible," Challenger said. "However, it is important to realize that, as deep and widespread as this recession was, it is going to be a long and sometimes painful recovery."
Once the economy does turn around, "job gains will not come nearly as quickly as the job losses occurred," he added.
The auto industry was hit the hardest in October, with 13,420 layoffs announced. The electronics sector was second worst, with 10,882 cuts.

Features

These Fortune 100 employers have at least 350 openings each. What are they looking for in a new hire? More

It would be the world's second-biggest economy. See how big companies' sales stack up against GDP over the past decade. More