Jobless claims lowest since January
The government says first-time claims for unemployment benefits fell more than expected last week to 502,000.
Map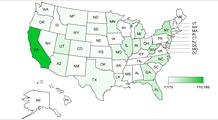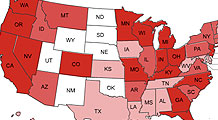 The duration of unemployment insurance varies by state. Here's how many weeks are available where you live.
More
NEW YORK (CNNMoney.com) -- The number of Americans filing first-time claims for unemployment insurance fell last week to their lowest level this year, the government said Thursday.
There were 502,000 initial job claims filed in the week ended Nov. 7, down from an upwardly revised 514,000 the previous week, the Labor Department said in a weekly report. It was the lowest number since the week ended Jan. 3, when 488,000 initial claims were filed.
The tally was also smaller than expected. A consensus estimate of economists surveyed by Briefing.com anticipated 510,000 new claims.
The 4-week moving average of initial claims was 519,750, down 4,500 from the previous week's revised average of 524,250.
A new jobs forum
President Obama said the figures were a "hopeful sign" but cautioned that unemployment is one of the "great challenges" facing the U.S. economy.
"Given the magnitude of the economic turmoil that we've experienced, employers are reluctant to hire," he said.
Speaking at the White House, Obama announced plans to hold a new forum on jobs and economic growth in December. He said the forum will bring together chief executives, small businesses and labor groups to discuss ways to improve the job market.
"We have an obligation to consider every additional responsible step that we can to encourage and accelerate job creation in this country," Obama said.
Initial jobless claims have been declining for several weeks, raising hopes that employers could begin adding jobs as the economy appears to be emerging from one of the deepest recessions on record.
Government figures showed last month that the U.S. economy grew at a 3.5% annual rate in the third quarter, ending a string of declines over four quarters.
However, many economists expect the national unemployment rate, which rose to 10.2% in October, to remain elevated even as the economy recovers.
"The numbers are still terrible in absolute terms, but at least they are clearly heading in the right direction," said Ian Shepherdson, chief U.S. economist at High Frequency Economics.
Continuing claims. The number of Americans continuing to file weekly claims for jobless benefits fell by 139,000 to 5.63 million in the week ended Oct. 31, the most recent data available.
The 4-week moving average for ongoing claims fell to 5.79 million.
But the decline in continuing claims may reflect a growing number of fliers that have dropped off those rolls into extended benefits.
Last week, President Obama signed into law a bill to provide up to 20 additional weeks of jobless benefits to unemployed Americans.
The legislation will extend jobless benefits in all states by 14 weeks. Those that live in states with unemployment greater than 8.5% will receive an additional six weeks. The proposal will be funded by extending a long-standing federal unemployment tax on employers through June 30, 2011.

Features

These Fortune 100 employers have at least 350 openings each. What are they looking for in a new hire? More

It would be the world's second-biggest economy. See how big companies' sales stack up against GDP over the past decade. More