The threat of nuclear meltdown
The government says nuclear power is safe, but others say an airplane hit or frontal assault would be big trouble.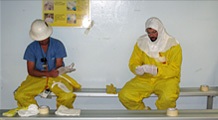 South Texas could see the first new nuclear power plant built in the country in 30 years. Most locals love it, but nationwide some are questioning the so-called nuclear renaissance.
BAY CITY, Texas (CNNMoney.com) -- At a nuclear power plant in Texas, two men dressed in combat gear are perched atop a steel-framed watchtower armed with assault rifles, firing on both moving and stationary targets some 300 yards away.
This is only a drill, but the threat they're preparing for is very real. It's one of the worst disaster scenarios imaginable: Terrorists infiltrate a nuclear power plant and cause a meltdown.
The government and the industry say that with all the security measures in place, the chance of that happening is practically zero.
But critics say the plants are vulnerable to attack, and that the government is not taking the measures necessary to protect the public. And with more nuclear plants likely to be built, there is an urgent need to address safety.
"The protection level at nuclear power reactors is not anywhere near that required," said Frank von Hippel, a nuclear physicist, Princeton professor, and former assistant director for national security in the White House Office of Science and Technology. "The utilities are unwilling to spend the money and the Nuclear Regulatory Commission, which is basically under the thumb of the utilities, is not willing to make them."
The airborne threat
In a post 9-11 world, perhaps the biggest fear is that a hijacked airliner would hit a nuclear plant. Under this nightmare scenario, the plane would breach the outer containment wall and cause a meltdown of the reactor core, with the radioactive gas getting out the same way the plane got in.
The government says this is all but impossible for several reasons:
Higher security: Airport security is now so tight that it is more difficult than ever to hijack an aircraft.
Military alert: If a plane was hijacked, military jets would shoot it down before it reached its intended target.
Difficult target: If a plane did get near a plant, flying such a large aircraft at a high speed into a target as small as a nuclear plant would be extremely difficult. Only about as wide as the wingspan of a large plane and some 14 stories tall, a nuclear power plant is far smaller than either the World Trade Center or the Pentagon.
Protective barriers: If a plane did hit a plant, it wouldn't be able to penetrate the 4-foot-thick steel reinforced concrete barrier around the reactor. And even if it did, there are still several other barriers to get through before reaching the reactor core. Plus, the plants are put into a defensive mode, essentially shutting down, whenever a threat is identified.
Time delay: A nuclear power plant would not blow up like a bomb. Even in a worst-case scenario, a meltdown at a nuclear power plant involves the core or the spent fuel getting too hot and literally melting, with the toxic gas escaping into the atmosphere. But that process would take several hours, if not days. Officials say they could safely shelter or evacuate people within the most dangerous area -- generally 50 miles or so from the plant.
"A direct hit by an airliner on a containment building isn't a significant problem," said Scott Morris, deputy director for reactor security at the Nuclear Regulatory Commission (NRC). "We've got the right procedures, protocols and mitigation measures in place to deal with it."
But critics say the government is being overly optimistic, at best. Jim Riccio, nuclear policy analyst at Greenpeace points to an early 1980s-era report from the government's own Argonne National Labs, removed from government Web sites after Sept. 11, saying a direct hit by an airliner on a nuclear power plant could breach the containment wall and lead to a meltdown.
NRC's Morris said the Argonne study was old and flawed, and that new studies done with better computer models show the plants are safe.
Besides the reactor core itself, which is housed inside the protective barrier, some are concerned the spent fuel could be a problem in the event of an aircraft attack. That's especially true in some reactors where the pool that houses and cools spent fuel is several stories above ground.
"It has been known for more than two decades that, in case of a loss of water in the pool...spent fuel recently discharged from a reactor could heat up relatively rapidly...[and] the fire could well spread to older spent fuel," von Hippel and a team of others wrote in a 2003 report. "The long-term land-contamination consequences of such an event could be significantly worse than those from Chernobyl."
The report described a scenario where contamination could drift downwind from the site, rendering the land uninhabitable and resulting in hundreds of billions of dollars in property damage.

If the plant was near a populated area -- like the Indian Point plant in suburban New York, some 35 miles north of midtown Manhattan -- and couldn't be evacuated in time, the damage could be much worse.
"If you get a fire at Indian Point in the spent fuel pool, it's going to take out New York City," said Pete Stockton, an investigator at the Project on Government Oversight and a former security expert at the Department of Energy.
Instead of pools, the report suggested housing the spent fuel in hardened casks on site, as some plants are currently doing when their pools get too full.

But Morris countered that the spent fuel is not dangerous enough to pose a health risk to the general public.
Ground assault
The other major threat posed to nuclear reactors is a full-on assault where armed terrorists attempt to take a plant by force and then cause a meltdown from within.
Security personnel regularly train for just such an attack.
"We train for armed intruders," said Mark McBurnett, a vice president at the Texas plant, known as the South Texas Project. "Basically, it's paramilitary fashion to stop these people from getting into the plant."
These guards train for an attack on the plant not just by hitting the firing range, but also in mock drills where former U.S. special forces play the role of terrorists.
In the event of an attack, the plan is for guards, along with other security measures like razor-wire fences, armored bunkers, steel-reinforced doors and vehicle barriers, to at least hold off an attacking force while reinforcements from local, state and federal agencies arrive.
But critics question how realistic the drills really are, not only at this plant but at nuclear facilities across the country.
"They are training for an attacking force of five, when in reality they'd come in with at least 12," said Stockton, noting that they also don't allow the "terrorists" to use automatic weapons or high-powered explosives. "It's ridiculously unbelievable."
Most industry analysts, the government, and even some environmental groups say the plants are safe enough. But no one will really know how safe a nuke plant is until someone tries attacking one.
As Greenpeace's Riccio notes, "they're safe enough, until they aren't."

Features

These Fortune 100 employers have at least 350 openings each. What are they looking for in a new hire? More

It would be the world's second-biggest economy. See how big companies' sales stack up against GDP over the past decade. More