Unemployment rates rise in 29 states
More states report rising unemployment rates, though fewer report joblessness above the national average in October.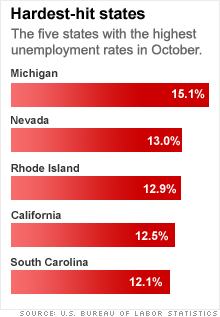 Map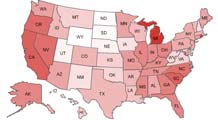 jobs by

Find a Job
NEW YORK (CNNMoney.com) -- A growing number of states reported rising jobless rates in October, and thirteen states reported unemployment rates above the national average of 10.2%, according to a government report released on Friday.
Overall, jobless rates increased in 29 states and the District of Columbia last month, while they fell in 13 states, according to a monthly Labor Department survey on state unemployment.
In September, 23 states and Washington D.C. reported that their unemployment rates increased, and 14 states had jobless rates above the national average.
Michigan remained the state with the highest rate of unemployment at 15.1%, though that rate was down 0.2 percentage points from September. October was the 11th straight month in which Michigan posted an unemployment rate above 10%.
Still, that's nowhere near the 68-consecutive months in which Michigan had double-digit unemployment between 1980 and 1985. That included a record high of 16.9% in November 1982.
Some signs of improvement
In a sign that the worst-hit state may be experiencing a glimmer of recovery, Michigan added 38,600 jobs in October, more than any other state except for Texas, which added nearly 42,000 jobs. California added 25,700 jobs last month.
In fact, the Labor Department reported that 28 states added jobs in October.
"While we have been focusing on a very broad, deep recession, as we get into a recovery, we may see some more regional improvements," said Robert Dye, senior economist at PNC Financial Services Group.
"Those that will do well are areas tied to the federal government, manufacturing, oil production and trade. But those more heavily exposed to the housing industry will lag behind."
Dye said Texas, Louisiana and the surrounding Washington D.C. areas in particular will start creating jobs faster than other locations. Florida, Arizona and Nevada, which have been hit the hardest by the housing crisis, will continue to lose jobs, he said.
Unemployment rates, which are taken from a separate survey, tend to rise even as the employers start hiring again, because the survey only counts people who are looking for work. When times are bad, many people become discouraged and give up their job search, so they are not counted in the unemployment data.
Job losses nationwide
Every state had an unemployment rate in October that was higher than a year ago, and every state has lost jobs over the course of the year.
The vast majority of states showed very slight increases or decreases in their unemployment rates. Only a few had significant jumps in their jobless rates. Unemployment rates in Alaska and Wyoming both rose 0.6 percentage points. Arkansas' rate grew 0.5 points last month.
North Dakota continued to post the lowest jobless rate, coming in at 4.2%, which was unchanged from September. It was followed by Nebraska with 4.9%, South Dakota at 5%, Montana at 6.4%, and Vermont and Utah at 6.5%.
Unemployment was highest in the western part of the country. That region now has a jobless rate of 10.8% -- the highest rate ever in the 33-year old state unemployment report. The Northeast again had the lowest rate of unemployment at 9%, the same level as the previous month.
Earlier in November, the Labor Department reported that the nation's unemployment rate rose above 10% for the first time since 1983.
With unemployment rising, the Obama administration announced it will hold a jobs summit on Dec. 3. Obama will meet with financial experts and business leaders to discuss strategies to deal with the nation's labor problem.
To make matters worse, a government report released on Wednesday showed that 1 million people could lose their unemployment benefits in January if Congress doesn't extend federal aid to the jobless. Earlier this month, President Obama signed a bill to extend government-provided unemployment insurance, but the law only helps those who exhaust their benefits by the end of 2009.

Features

These Fortune 100 employers have at least 350 openings each. What are they looking for in a new hire? More

It would be the world's second-biggest economy. See how big companies' sales stack up against GDP over the past decade. More