GE to supply world's largest wind farm
Conglomerate gets $1.4 billion contract to provide 338 wind turbines for project that will power 235,000 California homes.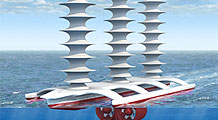 Geoengineering, or deliberately tinkering with the earth's climate, could help if global warming proves disastrous for mankind, but the ideas are untested and the risks unknown.
NEW YORK (CNNMoney.com) -- General Electric said Thursday it has secured a $1.4 billion contract to supply wind turbines and provide services for what will be the world's largest wind farm operation when completed in 2012.
The conglomerate will supply 338 of its 2.5-megawatt turbines to New York-based Caithness Energy to be installed in 2010 and 2011 at Shepherds Flat, the 845-megawatt farm that stretches across 30 square miles in north-central Oregon.
The Shepherds Flat Project will supply energy to Southern California Edison, providing enough to power approximately 235,000 California households, GE and Caithness said in a statement. It will generate 2 billion kilowatt-hours per year of renewable energy, and represent 1/10 of Southern California Edison's overall renewable energy portfolio.
GE (GE, Fortune 500), which will also provide 10 years of operational and maintenance service, will supply its 2.5xl wind turbines -- previously used in Europe and Asia -- for the first time in North America.
"The 2.5-MW wind turbines is the latest evolution of GE's wind turbine technology and provides customers with greater efficiency, reliability and grid connections," said Steve Bolze, chief executive of GE Power & Water, in a statement.
The $2 billion project will require the construction of 85 miles of road and 90 miles of power connection, and will employ 400 workers during construction and 35 during operation, according to Caithness. The project is estimated to inject $16 million annually into Oregon's economy.
"The project underscores our commitment to harness the power of wind to meet present and future energy needs while reducing greenhouse emissions," said Les Gelber, a partner at Caithness Energy, in a statement. "The Shepherds Flat project will add more renewable energy to the West Coast's energy mix and help the region meets its demand for clean energy."

Features

These Fortune 100 employers have at least 350 openings each. What are they looking for in a new hire? More

It would be the world's second-biggest economy. See how big companies' sales stack up against GDP over the past decade. More