Farewell to an ugly decade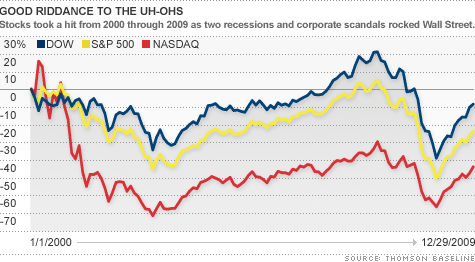 NEW YORK (CNNMoney.com) -- Call the last 10 years whatever you want: the Naughty Aughties, the Awful Aughts or the Zilches are all appropriate. If you are an investor, you're probably thankful the decade is over and are longing for better times ahead in the Teens.
The Dow is 8% lower than where it started this decade and it's been much worse for the broader market. The S&P 500 is off 23% and the Nasdaq, still smarting from the tech bubble's bursting way back in 2000, has dropped 44%.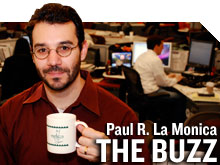 It would be one thing if this decade was merely one of sluggish economic growth and poor stock performance. But in addition to two recessions, including the worst since the Great Depression, the 2000s were a period marked by scandals, poor business decisions and greed run amok.
It's fair to wonder why anyone should trust Wall Street and Corporate America ever again.
This decade gave us the accounting frauds at Enron, WorldCom, Adelphia and Tyco. There were several textbook cases of mergers gone bad. Sprint-Nextel, Alcatel-Lucent, and of course my parent company's Time Warner-AOL fiasco instantly pop to mind.
To top all that off, the decade came to a close with the multibillion dollar taxpayer bailout of the nation's banking system and the government-backed bankruptcies of two of Detroit's Big Three automakers.
But as tempting as it may be to declare that the financial markets are broken, that the U.S. economy has peaked and that the notion of buying and holding stocks for the long-term has gone the way of the dodo, that would be misguided.
For all that went wrong since the clock struck midnight in Y2K, there was also a fair amount of news to celebrate in the world of business. Innovation and sound business practices haven't completely died.
We witnessed the triumphant resurgence of Apple (AAPL, Fortune 500). New leadership leading turnarounds at American icons Walt Disney (DIS, Fortune 500) and Coca-Cola (KO, Fortune 500). The rise to market dominance by Google (GOOG, Fortune 500) and Amazon.com (AMZN, Fortune 500). The continued growth of Wal-Mart (WMT, Fortune 500) and Starbucks (SBUX, Fortune 500) around the globe.
Although the stock market as a whole performed miserably, there were gems for investors that worked hard to find them. Blue chip S&P 500 companies such as Nike (NKE, Fortune 500), FedEx (FDX, Fortune 500) and Caterpillar (CAT, Fortune 500) have all more than doubled in the past decade.
And if you were fortunate enough to have $56,000 lying around at the end of 1999 and bought a share of Warren Buffett's Berkshire Hathaway (BRKA, Fortune 500), you'd now be sitting on a 76% return.
There is hope for less-affluent fans of the Oracle of Omaha though. The company's B stock (BRKB) is set to split in 2010, which means average investors will be able to buy a share for about $65 based on current prices.
There's even value to be had from investing in actively-managed mutual funds, which have been declared obsolete numerous times this decade as exchange-traded funds have exploded in popularity.
According to figures from fund tracker Morningstar, Ken Heebner's CGM Focus fund enjoyed annualized returns of more than 18% over the past 10 years while funds run by investing gurus Don Yacktman, Chuck Royce and David Ellison posted average annual returns in the double digits.
This all goes to show that it's probably best to not dwell for too long on all that went wrong in the Aughts. Capitalism isn't dead. Not every corporate CEO is a sociopath. Investing in stocks is still a good way to accumulate wealth over the long haul.
Let's try and learn from the mistakes and hope that the next 10 years are better. And to all readers of the Buzz, I'd like to wish you a happy and safe New Year's Day and a healthy and prosperous 2010. Thanks for all of your e-mails and Talkback comments this year and I look forward to interacting even more with you in the coming months.