A holiday job leaves a lasting gift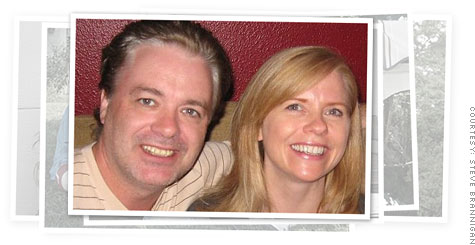 NEW YORK (CNNMoney.com) -- In the season of returns and exchanges, there's one holiday gift that Steve Brannigan will be holding on to: his new job.

What began as a temporary survival strategy has turned into a 40-hour work week for the former auto worker.
Brannigan was a manufacturing engineer for various Detroit companies that contracted to GM for over 20 years until the industry's downfall left him out of work. Aside from a few odd jobs, he'd been unemployed for most of the last three years.
"I was looking for any work in Michigan, but it is so slim," he explained. "Signs said 'we are not accepting applications at this time.'"
Brannigan's sister, Deb, invited him to relocate from Michigan to her home in Portland, Ore., to improve his job search odds. He took her up on the offer and started looking for anything that might help him carry his weight.
"I don't like to lean on people and ask them for help but if it wasn't for her, I don't know where I would be right now," he said.
At 11.1%, the unemployment rate in Oregon is also higher than the national average, but still an improvement over Michigan, which has the highest unemployment rate in the nation.

Brannigan managed to land two part-time jobs over the holiday season after submitting over 100 applications. One job entailed working in the bakery at Costco. The other was driving the zamboni and sharpening skates at an ice rink at the Lloyd Center Mall.
While neither employer made any long-term promises, Brannigan was recently informed that he could continue with both companies into the new year.
"My manager has told me that the company is planning to keep me on their staff," Brannigan said of his job at Costco.

While the position is part time, it includes medical and dental benefits along with vacation days. "I'm still going to keep my other job at the ice rink and hopefully be able to get at least a 40 hour work week from the two jobs," he added.
"Things are starting to pan out now," Brannigan said of his new jobs and his new city. "I love this city, it's amazing. I hate to bash Detroit, but I lived within the same 20-mile radius my whole life."
His experience has also made Brannigan more optimistic that the economy is starting to improve. "I can't help but feel positive that we're finally coming into better times," he said.

Deb says she is thrilled with how things have worked out since her brother's move, particularly because of his new upbeat outlook. "Right now, he is just happy to be employed and working again," she said.
Getting a foot in the door during the holidays
Experts say that a company's busy season can be a prime time to find employment opportunities.
"The way to think about seasonal jobs, or part-time jobs, is as a long interview," said John Challenger, chief executive officer of outplacement firm Challenger, Gray & Christmas. "That job becomes a way to build respect and recognition for the work you do and build relationships throughout the organization," he said. "Those relationships are often the deciding factor."
"People need to be open to something that's not full time and permanent just to get their foot in the door," added Cheryl Palmer, an executive career coach at Call To Career in Silver Spring, Md. "You have to be flexible in this environment."
Job seekers can also improve their odds by following Brannigan's lead, Palmer said. She suggests considering other industries and locations in their search as well.
"You have to be flexible to consider other locations where prospects might be better. Being open to relocation, for example, even if it's not your first preference, can be a real survival tactic."
Read updates on the people previously profiled in Hired! Join the Hired! group on Facebook.
Have you found a job recently? We want to hear from you. Send us an email and attach a photo. Tell us where you got hired and how you landed the job and you could be profiled in an upcoming story on CNNMoney.com. For the CNNMoney.com Comment Policy, click here.