Hired! A pilot's job search takes off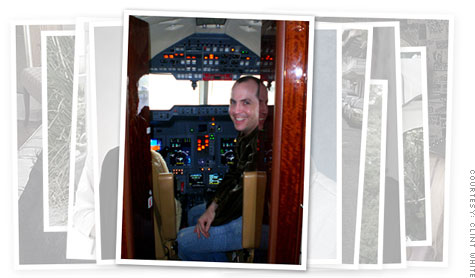 NEW YORK (CNNMoney.com) -- The recent recession has hit the aviation industry particularly hard, leaving many workers grounded indefinitely. But one determined pilot found a way to fly again.
When Clint White was laid off from his job flying a private plane, he accepted a position as a flight instructor. But after only 4 months on the job, the school went bankrupt last March, and White, 41, found himself unemployed for the second time in a year.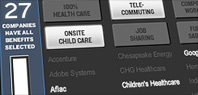 Select benefits you want and instantly see which Best Companies to Work For offer them.
Launch Perkfinder
Over the next several months, the Port Orange, Fla.-based pilot applied to numerous positions in his industry, but got few responses and no offers. "The market was so bad at the time," he said.
Meanwhile, money was getting tighter and bills were piling up.
"We didn't even know how we were going to make our mortgage," he said, once their savings were depleted.
White's wife, Carolina, took a job at a supermarket to help cover the bills. And the recently married couple even cancelled plans to throw a party to celebrate their wedding.
It became clear to White that he had to step up his job search if he was going to get his career off the ground. So he set out to reinvent himself.
The first step was creating a network from scratch. "I didn't know anybody," he admitted. "I guess I was complacent. I had friends in the industry but I didn't have any professional contacts."
So White started by setting up Facebook, Twitter and LinkedIn accounts to establish networks. Then he started a blog -- www.helpclintfindajob.wordpress.com -- where he chronicled his experiences on the hunt and his views of the aviation industry.
"When I first put it out the only people that read it were my mom and my wife," he said.
But gradually White connected with others in the field and linked his blog to theirs, also adding his feedback to their posts, which boosted his traffic. "I started getting 30-40 hits a day."
That's when a charter company based in Nashville, Tenn., reached out. They had seen White's blog and read the comments he had made to their postings and contacted him about an opening.
"The CEO said he had seen my blog. He was impressed by my knowledge of the industry. It was everything that I had hoped for," White said.
Then another private charter company based in Florida called White for an interview, and eventually offered him a job.
"From nothing to two job offers after nearly a year of unemployment? Feast or famine," he said.
The second firm, located in Orlando, was only an hour from his home, which ultimately was the deciding factor. He started in the beginning of February after 11 months of unemployment.
Now White is the co-captain of a Hawker 750 jet and has a one-year employment contract. He credits the job offers to building a successful online presence and network. "I've gone from not knowing anybody to having hundreds of contacts."
And as for his most important contact, his wife, White says he hasn't ruled out a wedding celebration down the road, once the couple's savings have been restored. "We still have the dress," he said.
Creating an online image
Social media expert Sandra Fathi says that using social networking tools and, in particular, starting a blog can be an effective job search strategy.
"Blogging is a great tool to show your own personal ability, whether it is writing or showcasing your experience," said Fathi, president of Affect Strategies.
But Fathi advises job seekers to keep their blogs focused on their knowledge and skills, and less on the job search itself, which can be self-defeating.
"Employers can be hesitant about people who are unemployed," she said. "You don't want to air 'I've been on 100 interviews and haven't gotten a single offer.'"
Those hesitant to create their own blogs can still gain a lot of good exposure by commenting on other people's posts in their industry, Fathi suggested.
While adding a comment, there is also often the opportunity to include a link to your Web site -- which can even be your LinkedIn or Facebook page -- and boost your online presence, she explained.
"It's a great way to get more coverage and be findable for employers," Fathi said.
But be wary of overexposure, she cautioned, particularly when it comes to prospective employers.
"Don't comment every day, twice a day for a month," she said. "You want to be top of mind but you don't want to be so aggressive that you turn them off."
Read updates on the people previously profiled in Hired! Join the Hired! group on Facebook.
Have you found a job recently? We want to hear from you. Send us an email and attach a photo. Tell us where you got hired and how you landed the job and you could be profiled in an upcoming story on CNNMoney.com. For the CNNMoney.com Comment Policy, click here.