Madoff hunter: 'He's the lowest form of scum'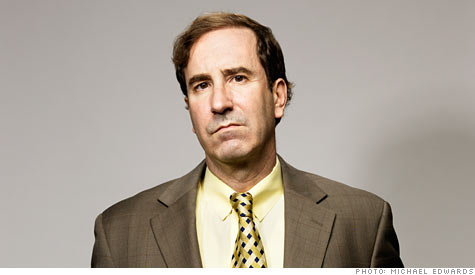 NEW YORK (Fortune) -- Harry Markopolos spent nine years fruitlessly trying to convince the Securities & Exchange Commission that Bernard Madoff's investment operation was a scam.
Markopolos, a former derivatives fund manager turned fraud investigator, became an instant star after Madoff's fund imploded, emerging as one of the few sympathetic figures of the financial crisis. A self-described quant, Markopolos contends it took him five minutes to realize that Madoff's vaunted returns were impossible.
These days, Markopolos hunts fraud at major corporations. He looks for whistleblowers at places like trade shows and bars near corporate offices and convinces them to file lawsuits under the False Claim Act. He gets a piece of any settlement.
Markopolos is still waiting for his big payday, but next week marks the debut of his book, "No One Would Listen: A True Financial Thriller," the story of his quest to expose Madoff and his Ponzi scheme.
James Bandler caught up with Markopolos in Boston recently to discuss the book, and how he's doing with his life as an agent for whistleblowers. Edited excerpts are below:
Since Madoff, I would imagine every whistleblower in America would want to talk to you.
I've gotten a lot of interesting evidence mailed to me and some of it has been borderline lunacy, like, who killed Kennedy type of thing. Others have been grounded probably in a good set of facts, but they're not my cases. The negatives are that my undercover days are over. I can't be anonymous. I don't want to be recognized with whistleblowers, because it would be harmful to their careers. I have to wear disguises more.
What do you have, wigs?
I don't want to go into it, because that would be stupid. That's operational security.
You were a whistleblower and you work with them now. What is the profile of the whistleblower's personality?
If you don't have a strong belief system, you're not going to be a whistleblower. You have to be crazy-brave. The risks are all weighted to the downside.
Crazy-brave?
Yes. You cannot have self-doubt. You just have to go forward and say I believe in this country. I believe in these core values. I know if I get outed and get caught, I've committed economic suicide for myself and my family. I'm going to be on the industry blacklist.
You write that you were afraid that Madoff or shady gangster clients would try to kill you if they fingered you as the whistleblower. You took to checking under your car for bombs and you carried a gun everywhere with you.
I didn't know if I was going to live through it.
You were so afraid of being identified by Madoff that you wore gloves (in 2002) when you handed a packet of information to an aide of Eliot Spitzer so that your fingerprints would not be on the documents. Were you being overly paranoid?
I had twin boys that were going to be born three months later, and I wanted to make sure that they would have a father. I knew that Spitzer came from a very wealthy family and that it was possible that he was a Madoff investor. (In fact, Spitzer's family real estate company did lose money in the scandal.)
What would've you done differently?
I can think of two things that would've influenced the action and hopefully brought this to a successful resolution. One is approach Spitzer in the open. Take the risk. Shake his hand, look him in the eye, say, 'I'm Harry Markopolos, I'm president of the 4,000-member Boston Security Analysts Society. I'm a derivatives expert and this is what I know about Bernie Madoff. He's a fraud.'
I wish I had confronted Mr. Spitzer to his face. Or I should have gone to (Massachusetts Secretary of the Commonwealth) Bill Galvin. He'd taken on Wall Street titans like Spitzer had. He was a hometown boy like me.
In your book, you write that when Madoff was interviewed by the SEC inspector general and asked about you, he dismissed you as a "joke in the industry." What would you tell Madoff if you met him?
I wouldn't want to meet him. I think he's a pathological liar and a predator. I think he's mentally twisted, and I know a lot more about him than he knows about me. He hunted at funerals and weddings. He's the lowest form of scum. I don't want to meet him or his family. I don't want anything to do with him. I don't want to be that close to evil.
Read more of James Bandler's interview with Markopolos