Stocks pummeled on debt worries
NEW YORK (CNNMoney.com) -- Stocks tumbled Tuesday on worries that the global recovery could suffer if Europe's efforts to contain Greece's debt problems don't succeed, and if China's efforts to slow its booming economy go too far.
Bond prices rallied, lowering the corresponding yields, as investors sought the comparative safety of government debt. The euro fell to a new yearly low versus the dollar, pummeling dollar-traded energy prices and stocks.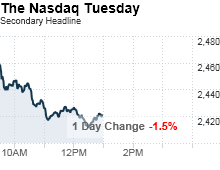 The Dow Jones industrial average (INDU) slumped 225 points, after having fallen as much as 282 points earlier. The decline, equivalent to 2%, was the average's biggest one-day point drop since February 4. The S&P 500 index (SPX) lost 29 points, or 2.4%. The Nasdaq composite (COMP) fell 74 points, or 3%.
"We're realizing that Greece's problems are not going to go away and that China has to slow growth down," said Drew Kanaly, CEO and chairman at Kanaly Trust. "These issues are giving us a view into our own future if we keep piling up debt."
He said that markets are worried about how the U.S. will balance growth with inflationary risks, and what the impact of the growing deficit will mean. The ongoing impact from the oil spill in the Gulf of Mexico on commodities was also a factor, he said.
The broad worries were reflected by the spike in the CBOE Volatility index (VIX), or the VIX, Wall-Street's so-called fear gauge. The VIX jumped 18%, briefly topping its highest point since Feb. 10 before pulling back a bit.
Early February was the bottom of the market's other notable selloff this year, when worries about China and Greece sent the S&P 500 down by about 9% in just over three weeks.
"I think a little volatility is back," said Dave Hinnenkamp, CEO of KDV Wealth Management. "We're getting triple-digit moves (on the Dow) like we haven't seen in a while. We've had some big moves but the market hasn't gone anywhere."
The market was also vulnerable after stocks slumped last week and the Dow broke its 8-week winning streak, its longest run in six years. In that time, the Dow gained over 15%.
Hinnenkamp said there's a battle going on between the improved earnings and everything else, including the euro zone debt issues, the oil spill and China's efforts to curb inflation without slowing growth.
European debt: Stocks rallied Monday after European leaders agreed to provide Greece with $146 billion in loans over three years -- with promises of the first payment due to arrive ahead of a key May 19 deadline, when the nation owes over $11 billion.
The Greek bailout package, funded jointly by the European Union and the International Monetary Fund, seemed to set a template for other bailouts, should they be needed. Greece is one of the so-called PIIGS -- five European nations with heavy debt loads that investors fear could destabilize the euro and slow global growth should they all default. Portugal, Italy, Ireland and Spain are the other four.
But relief about the plan turned to worries about its execution Tuesday on concerns that not all of the 15 other euro zone nations would be willing to get on board. Influential Germany said Monday it would commit to loaning $40 billion to Greece over the three years, but it's not yet clear whether the whole group will be willing to participate. In addition, such a substantial commitment could limit European leaders should other nations need a comparable bailout.
What's moving: Stock declines were broad based, with 27 of 30 Dow shares falling, led by tech shares Hewlett-Packard (HPQ, Fortune 500), IBM (IBM, Fortune 500) and Microsoft (MSFT, Fortune 500), financials American Express (AXP, Fortune 500) and JPMorgan Chase (JPM, Fortune 500) and energy shares Chevron (CVX, Fortune 500) and Exxon Mobil (XOM, Fortune 500).
Caterpillar (CAT, Fortune 500), Boeing (BA, Fortune 500), United Technologies (UTX, Fortune 500) and 3M (MMM, Fortune 500) were the other big losers.
Market breadth was negative. On the New York Stock Exchange, losers topped winners five to one on volume of 1.53 billion shares. On the Nasdaq, decliners topped advancers by nearly six to one on volume of 2.99 billion shares.
World markets: In overseas trading, European markets tumbled, with France's CAC 40 down 3.6%, Germany's DAX down 2.6% and London's FTSE down 2.6%.
Asian markets fell, with Hong Kong's Hang Seng index down 0.2%. The Japanese Nikkei was closed for a national holiday.
In China, the Shanghai Composite lost 1.2% after the country said manufacturing grew at a slower-than-expected pace in April. Investors were also reacting to news over the weekend that China has boosted its bank reserves.
The dollar and commodities: The dollar rallied versus the euro and fell against the yen.
U.S. light crude oil for June delivery fell $3.45 to settle at $82.74 a barrel on the New York Mercantile Exchange.
COMEX gold for June delivery fell $14.10 to settle at $1,169.20 per ounce.
Bonds: Treasury prices rallied, lowering the yield on the 10-year note to 3.62% from 3.70% Monday. Treasury prices and yields move in opposite directions.
Economy: Pending home sales rose 5.3% in March after climbing 8.3% in February. A consensus of economists surveyed by Briefing.com expected sales to increase 5%.
Factory orders were 1.3% higher in April after rising 1.3% in March, the Commerce Department said. Economists thought orders would fall 0.2%.
President Obama, speaking to the Business Council in Washington in the afternoon, said that after a tough two years, the "storm is receding"
Quarterly results: A number of major companies reported quarterly results before the start of trading.
Among the standouts: Dow component Merck (MRK, Fortune 500) reported higher quarterly revenue and earnings that topped estimates.
Fellow Dow component Pfizer (PFE, Fortune 500) also reported higher quarterly revenue and earnings that topped estimates.
Merck and Pfizer were two of only three Dow components to post gains Tuesday. The third was Wal-Mart Stores (WMT, Fortune 500).
In other company news, financial data services provider Interactive Data (IDC) will be going private, with owner Pearson accepting a $3.4 billion buyout from investment firms Silver Lake and Warburg Pincus.