Late retreat sinks stocks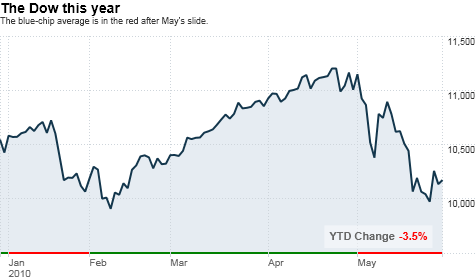 NEW YORK (CNNMoney.com) -- Stocks slumped Tuesday, ending a choppy session lower, as worries about the global economic outlook overshadowed better-than-expected readings on the U.S. economy.
The Dow Jones industrial average (INDU) fell 112 points, or 1.1%. The S&P 500 index (SPX) lost 19 points, or 1.7% and the Nasdaq composite (COMP) fell 35 points, or 1.5%.
The market retreated in early trading after a report showed slower manufacturing growth in China and the euro briefly fell to a fresh four-year low. Better-than-expected readings on U.S. construction and manufacturing helped turn the tide in the morning. But the market sold off again heading into the close.
Stocks tumbled last month, with the Dow's decline of 7.9% its worst May performance since 1940. All financial markets were closed Monday for Memorial Day.
The pullback came as the euro plunged and the European debt crisis threatened to slow global growth. Worries about China's slowdown were also a factor.
These issues are likely to continue pressuring stocks, said Stephen Carl, head equity trader at Williams Capital Group.
"I don't think the selling is over by any means," he said. "It looks like we're hovering in a range around 10,000 (on the Dow), but there could still be more selling to come."
Economy: The Institute for Supply Management's May manufacturing index fell to 59.7 from 60.4. However, the index was expected to fall more, to 58.9, according to a consensus of economists surveyed by Briefing.com.
Any reading above 50 indicates expansion in the sector. The index has indicated expansion for 10 consecutive months.
Construction spending rose 2.7% in April, trouncing expectations for a rise of 0.1%. The government reported construction spending rose 0.4% in March.
Companies: BP (BP) shares plunged 15% as the company's latest attempt at stopping the oil spill - now in its seventh week - failed. The company had tried to stop the spill - the worst in U.S. history - by forcing mud into the leaking well
Since the Deepwater Horizon exploded on April 20, the stock has lost more than one-third of its value.
AIG (AIG, Fortune 500) shares fell after the company rejected Prudential PLC's request to lower the price of its $35.5 billion deal to buy AIG's Asian affiliate, raising the chances of the deal falling apart.
On the upside, Apple (AAPL, Fortune 500) shares gained after the company said Monday that it has sold its 2 millionth iPad. Following the news, a number of analysts raised their estimates on iPad sales and Apple's quarterly and fiscal-year figures.
Hewlett-Packard (HPQ, Fortune 500) announced it is cutting its total workforce by 3,000 over the next few years as it accelerates its use of automatic data centers for business customers. Shares of the Dow component gained 0.5%.
A variety of financial shares fell, lowering the KBW Bank (BKX) sector index by 2.6%.
Euro: The European currency seesawed after touching a four-year low of $1.2111 in the morning.
The dollar rose 0.2% against the yen.
World markets: Markets in Europe were mixed. Britain's FTSE 100 lost 0.5%, Germany's DAX gained 0.3% and France's CAC 40 lost 0.1%.
Asian markets ended lower. Japan's Nikkei lost 0.6% and Hong Kong's Hang Seng fell 1.4%. China's Shanghai Composite lost 0.9%.
Commodities: U.S. light crude oil for July delivery fell $1.39 to settle at $72.58 a barrel on the New York Mercantile Exchange.
COMEX gold for August delivery rose $11.90 to settle at $1,226.90 an ounce.
Bonds: Treasury prices were little changed, with the yield on the 10-year note holding at 3.30%, little changed from late Friday. Treasury prices and yields move in opposite directions.
Trading volume: Market breadth was negative. On the New York Stock Exchange, losers beat winners three to one on volume of 1.43 billion shares. On the Nasdaq, decliners topped advancers by over four to one on volume of 2.15 billion shares.