Goldman Sachs needs to settle NOW!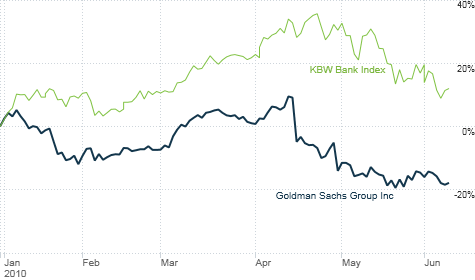 NEW YORK (CNNMoney.com) -- Earth to Lloyd Blankfein: The jig is up for Goldman Sachs. It's time to settle with regulators before any more damage to the severely wounded stock is done.
Goldman Sachs may have ceded its title as most hated company in America to BP for the moment -- and CEO Blankfein is probably not despised nearly as much as BP CEO Tony Hayward.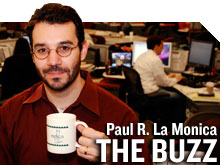 But investors aren't forgetting that the SEC has filed those pesky civil charges against the Wall Street titan. Shares of Goldman Sachs (GS, Fortune 500) have plummeted 25% since the allegations of fraud tied to a complex mortgage security came to light on April 16. The stock is now trading just 2% above its 52-week low.
Sure, the entire market has been rocked in the past month-and-a-half on Europe fears. But to put things in perspective, Goldman's stock has fallen much farther than the broader market and other bank stocks. The S&P 500 is down 12% while the KBW Bank Index is off 16% since mid-April.
Goldman hasn't done itself any favors by not appearing to cooperate with the congressionally mandated Financial Crisis Inquiry Commission.
The FCIC announced Monday it was subpoenaing Goldman for documents. Shares of Goldman fell Tuesday - even as other big bank stocks bounced back from big sell-offs last Friday and this Monday.
You'd think that Goldman would be eager to put the SEC mess in the rearview mirror. After all, the company could easily afford to pay a hefty fine.
Some experts have said Goldman could wind up settling for a sum in excess of $1 billion. But that would be chump change for the company, especially when you consider that Goldman has lost about $23.5 billion in market value since mid-April.
"Fighting the SEC is futile. It's not a matter of being right or the size of the fine. It's a distraction to management and hit to the reputation of Goldman Sachs," said Tom Villalta, co-manager of the Jones Villalta Opportunity fund in Austin, Texas.
"As a shareholder we want this behind us. It doesn't matter what it takes - even if it's the largest SEC fine ever," he added, saying that Goldman remains a big holding in the fund.
Goldman Sachs had no comment about investors' calls for it to settle with the SEC.
Others said a settlement would be welcome news, but it may not put an end to the problems for Goldman. Wall Street reform is a hot button issue in Congress and politicians may be eager to keep beating up on Goldman - especially with key midterm elections looming.
"Goldman is such a convenient punching bag. I'm surprised they haven't been blamed for the volcano in Iceland or the oil spill," quipped Karl Mills, manager of the Counterpoint Select fund and president and chief investment officer for Jurika Mills & Keifer in Oakland, Calif.
Mills said his fund owned Goldman as of the end of the first quarter - the most recently available period for disclosure of holdings - but that he could not specifically comment about whether the fund still owned Goldman.
However, Mills added that his firm's policy is usually to sell a stock immediately when there is an issue such as a SEC investigation.
"These things are never over in one day. There always more problems. And once Congress gets involved things get clogged up for awhile."
But Villalta said he's confident that once the regulatory issues are finally settled, Goldman is poised to bounce back sharply.
He pointed to a pick up in merger activity and the fact that there are fewer big Wall Street investment banking powerhouses following a wave of consolidation as reasons Goldman's profits could soar later this year.
One long-time owner of Goldman agreed that the stock is due for a comeback. Scott Black, president of Delphi Management, a Boston-based money management firm, said he's owned Goldman since it went public in 1999 and is sticking by it despite the SEC overhang.
"I'm not a legal expert. I'm an investor and the stock's statistically cheap. They'll work something out," Black said. "But even with new regulation and without derivatives, they could revoke the bank charter."
Goldman was granted status as a commercial bank by the Federal Reserve during the height of the financial crisis in 2008. Some investors have suggested that Goldman may now be better off without it, since it could allow the firm to more easily engage in riskier trading practices that some lawmakers are cracking down on, such as derivatives.
But Mills thinks that the worst may not be over for Goldman and other big banks. It's not a coincidence that the focus on Goldman has also hurt shares of other Wall Street powers such as Bank of America (BAC, Fortune 500), Citigroup (C, Fortune 500), JPMorgan Chase (JPM, Fortune 500) and Morgan Stanley (MS, Fortune 500).
"As long as there is a cloud of regulatory reform and uncertainty, it will not just affect Goldman but the entire banking industry. Nobody knows what the rules are," Mills said.
- The opinions expressed in this commentary are solely those of Paul R. La Monica.