The most behind-the-curve but wildly profitable tech company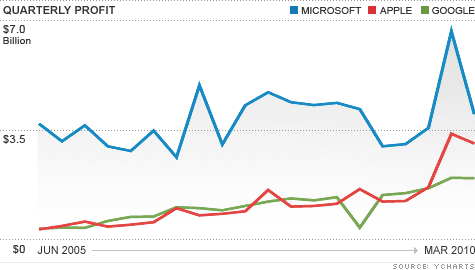 NEW YORK (CNNMoney.com) -- It has recently been popular to prognosticate Microsoft's impending doom, but there's one big reason to believe in a successful future for the software giant: Cash. Microsoft is sitting on a giant pile of it, and it makes billions more every quarter.
Microsoft (MSFT, Fortune 500) has certainly had a rough few weeks. Longtime rival Apple (AAPL, Fortune 500) surpassed the company in market value, and Steve Jobs' unveiling of the iPhone 4 served as a stark reminder of how far Microsoft has fallen behind in the smart phone space. CEO Steve Ballmer yet again reorganized the company's struggling entertainment division. And Hewlett-Packard (HPQ, Fortune 500) -- Microsoft's most vital partner -- opted to dump Windows 7 for HP's soon-to-be-released iPad competitor, the Slate tablet, in favor of Palm's WebOS.
The naysayers are writing requiems for Microsoft because of its paltry market share in tablets and smart phones, where the future-growth forecast is highest.
But here's why Microsoft's struggles aren't as epic as some may believe: The company is in phenomenal financial shape, it is quickly taking a lead in cloud computing, and cash cows Windows and Office aren't going away anytime soon.
"Reports of Microsoft's impending demise are not only greatly exaggerated but certainly far from the truth," said Laura DiDio, principal analyst at ITIC. "Microsoft has a perception problem, but in reality, it does a lot of things very well."
Leveraging strong finances
Microsoft has become a quasi-tech conglomerate, with about 9,000 products in its portfolio. That helped the company rake in $58.4 billion last year. Its profits on those sales are staggering: Microsoft earned $14.6 billion in 2009, making it the second-most profitable company in the United States, behind only Exxon Mobil (XOM, Fortune 500). Its profit margin of 25% ranks 14th in the country.
The software giant is the third-highest valued company on the market, trailing Exxon and Apple, and it has $37 billion in cash on hand.
"Anybody with reasonable intelligence has to ask how people can write off Microsoft when it is in such good financial shape," DiDio said.
The company has used those tremendous profits to invest heavily in research and development, giving it an opportunity to quickly mobilize in areas in which it has fallen behind.
It hasn't had much success with that in recent years -- the Zune was an epic dud, and Microsoft's mobile-business efforts have fizzled. But there are signs that some of the company's heavy R&D investment is starting to pay off, most notably in the cloud.
Bold movement into cloud
Google (GOOG, Fortune 500) took an early lead in the cloud, offering consumer and business applications on the Web. But Microsoft has, at last, responded strongly. Office 2010 Live, which launched last week, is a much more functional productivity suite than any of its rivals. Users can finally get a taste of the traditional Office software experience through a Web application.
For consumers and small businesses, Microsoft is even offering a free version of its Office suite online to compete with Google -- a dramatic change in business strategy. It appears to be paying off: In anticipation of the Office Live launch, Google responded by adding some much-needed functionality to its Docs applications.
For corporations, Microsoft's "Azure" cloud platform lets businesses move their physical applications onto remote servers that are supported and serviced by Microsoft. That allows workers full access to their applications and data from almost anywhere, and it lets companies to keep their existing programs, saving IT departments from having to build new applications from scratch if they want to go to the cloud.
Analysts say the ability to seamlessly integrate physical software with cloud-based applications gives Microsoft a leg up on competitors like Oracle (ORCL, Fortune 500) and Google, which offer a "one-or-the-other" approach.
"Microsoft is really getting ahead of the game in the cloud, and it is in a much better position vis-a-vis its competition," said Al Hilwa, an analyst at IDC. "It learned its lesson from its mistakes in mobile. It has a big stake in the on-premises business now, but Microsoft wants to make sure it is well positioned for change down the road."
Cash cows still viable
Microsoft has a strong presence in server software, databases and video games, and its search market share has grown for 11 straight months since the launch of Bing. But Windows and Office generate more than half of the company's revenue and profit. That's what has industry-watchers abuzz -- if emerging technology eventually makes those cash cows obsolete, Microsoft's dominance would fade away fast.
The early Office 2010 reception has been strong, and Windows 7 has sold 100 million copies since its October launch. But Microsoft's core products are still very much reliant on PCs: Office is now available on the Web, but it doesn't yet work on the iPad. Windows 7 has been late to the mobile game. Ballmer said he would like to get Windows 7 onto a tablet soon but hasn't given a timetable, and Windows Phone 7 -- Microsoft's new mobile platform -- won't launch until autumn.
That's why a shift to mobile Internet devices poses a big threat to Microsoft. Forrester Research expects tablet computer sales to overtake desktop PC sales in the United States by 2013. Sales of smart phones will also overtake all PCs by 2013, according to Gartner.
Still, the PC isn't dying anytime soon. Gartner forecasts PC shipments will rise 22% this year. Apple CEO Steve Jobs recently likened the eventual decline in PCs to the decline in trucks -- they'll still be around; there will just be fewer of them.
Where PCs will undoubtedly still be around for years to come is where Microsoft does most of its business: in offices. Corporate customers account for three-quarters of Microsoft's sales.
"The enterprise moves much more slowly than consumers, and Microsoft is so well-positioned in the enterprise," Hilwa said. "That cuts Microsoft a lot more slack, giving it time to adjust to tablets and smart phones."