Why Google is not feeling lucky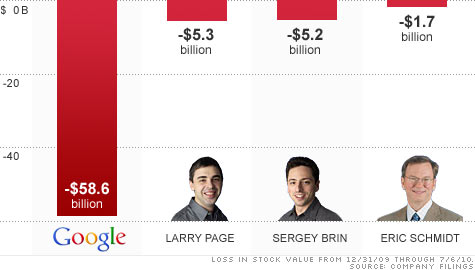 NEW YORK (CNNMoney.com) -- Perhaps it's time for Google to be evil.
Shares of the Internet advertising giant had fallen for 13 consecutive trading sessions before finally rallying Wednesday. During that unlucky stretch, Google's stock plunged (coincidentally?) 13%, erasing about $20.8 billion in market value.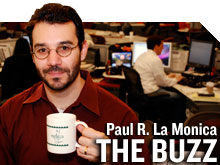 The stock rose more than 3% Wednesday along with the broader market. That was despite a price target cut by J.P. Morgan analyst Imran Khan.
But even though Google (GOOG, Fortune 500) broke its losing streak, the recent rough patch is just the latest in what's been an awful year for the stock. Google's down nearly 30% in 2010, worse than the drops experienced by top rivals Microsoft (MSFT, Fortune 500) and Yahoo (YHOO, Fortune 500).
Even though Google remains the undisputed king in online search, investors seem bored with Google's dominance. The company's troubles in China have some concerned that Google will never be able to extend its market share lead in the U.S. to the world's largest market.
Shares of Baidu, Google's main competitor in China, have surged more than 65% so far in 2010 as investors bet that Google's battle with the Chinese government over censorship will make Baidu (BIDU) even stronger.
It's also looking more and more like Google, despite all its efforts to diversify, may be a one-trick pony after all. Sure, that pony is hardly a nag. As I wrote way back in 2005, it was performing like Secretariat.
That's still the case. Google will report its second quarter results on July 15. Analysts expect that Google's sales (excluding ad revenue shared with partners) and earnings per share will surge more than 22% from a year ago. For the full year, analysts are predicting an earnings increase of about 20%.
That's obviously an enviable growth rate in an economy that's still tepid at best. Still, Google is a victim of its success. Over the past five years, Google's annual earnings growth rate has averaged nearly 40%.
Growth inevitably has to slow given how large the company has become. But Tim Boyd, an analyst with MKM Partners in Stamford, Conn., said that Google's slowing momentum could be enough of a reason to convince some growth-oriented institutional investors to sell the stock.
"Google has been criticized for years for not diversifying, but as long as it was growing at 30% to 40% nobody cared," he said. "Now with growth slowing to 15% to 20% or so, that puts you at the cusp of being a value stock."
Some investors are also worried that Google has not been able to replicate its market dominance in other areas -- most notably, in the world of mobile devices and social networking.
"Google's core business of search is still doing well, but people need to know what the next big multibillion dollar product will be. That's spooking investors," said Sameet Sinha, an analyst with JMP Securities in San Francisco.
Google has made a mild splash with its Android mobile operating system and Nexus One phone. But that's nothing compared to the cannonball that is Apple.
Unfortunately for Google, beating the stuffing out of Yahoo and Microsoft in search is now considered a fait accompli. But Apple (AAPL, Fortune 500), with its iPhone and iPad, has become more of a competitor to Google as of late. And Google's growth, while impressive, is pedestrian when compared to Apple.
Analysts expect Apple to report a profit jump of more than 50% in its fiscal third quarter (which ended in June) and a nearly 75% sales increase. For the full fiscal year ending in September, analysts are forecasting a profit increase of over 50%.
So it's no wonder that Apple's stock has held up during the market turmoil of 2010: Shares are up nearly 20% so far this year.
"It seems like we say it every quarter, but there's not a lot new to get excited about with Google. It's steady as she goes," said Martin Pyykkonen, an analyst with Janco Partners in Denver. "With other growth stocks like Apple, there are obvious catalysts for investors."
Pyykkonen said that recent moves, such as Google's $700 million acquisition of online travel software firm ITA, are just "a drop in the bucket" for a company of Google's heft.
One also gets the distinct impression that if Facebook ever decides to file for an initial public offering, the social networking juggernaut would immediately whip investors into a frenzy -- the type of which not seen since Google's IPO in 2004.
(Whether or not social networking sites like Facebook and Twitter will ever be able to generate as much revenue and profit as Google is a topic of debate for another time.)
Still, from the standpoint of investors, Google may not have to become as sexy as Apple or Facebook. It just needs to keep doing what it's doing in search and generate more revenue from other forms of online ads.
Sinha said that Google is already positioned well in the so-called display market, selling graphical ads that aren't just contextual search links. Video ads in particular could be a big business, thanks to Google's YouTube site, Sinha said.
Shares now trade at just 16 times 2010 earnings estimates. That's about in line with the so-called earnings multiple for the broader market.
Boyd said that's a very good value considering that Google has a pristine balance sheet and has been fending off challenges from Yahoo and Microsoft's Bing in search.
"The stock is now trading as if it's losing market share. It doesn't make sense," he said.
- The opinions expressed in this commentary are solely those of Paul R. La Monica. Other than Time Warner, the parent of CNNMoney.com, La Monica does not own positions in any individual stocks.