Exxon BP? Chevron BP? Not so fast
NEW YORK (CNNMoney.com) -- You know it's a trader's market when one of the hottest stocks belongs to possibly the most hated company on the planet. Yup, BP continues to rally sharply from a 14-year low set last month.
With the U.S.-listed shares of the London-based oil giant popping 8% in Monday afternoon trading to nearly $37 a share, BP (BP) is now up more than 37% from its nadir. It is trading at its highest level since June 8.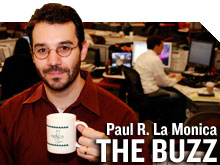 It seems that investors are excited about the fact that BP is set to install a new cap on the leaking Deepwater Horizon well. That is raising optimism that the spill may soon be contained at long last.
But there's also chatter about BP possibly selling assets to raise cash. According to several reports, BP may be talking to Apache (APA, Fortune 500) about a sale of a stake in oil fields in Prudhoe Bay, Alaska. That could raise $10 billion.
Selling assets would make sense. But there's also a report in the Sunday Times of London suggesting that Exxon Mobil (XOM, Fortune 500) and another large U.S. oil firm, potentially Chevron (CVX, Fortune 500), may be looking to prepare a hostile bid for BP.
As I wrote in Friday's column about BP, the speculation of a takeover is not new. An analyst for J.P. Morgan theorized earlier this month that Exxon or Royal Dutch Shell (RDSA) might feel compelled to bid for BP sometime next year. But the analyst freely admitted this was an "M&A fantasy."

But it's dangerous for investors to be buying into the notion that BP may now be takeover chum.
It's amazing that just a few weeks ago, the bet on Wall Street was that the company was heading for bankruptcy. Now the rumor du jour is that other big oil companies are lining up like gentlemen callers in a Tennessee Williams play? Please. Much like Laura Wingfield in "The Glass Menagerie," BP will not be an easy sell.
First, BP, despite its huge market plunge, still is worth more than $100 billion. Presumably, BP's board and shareholders would want a big premium in order to accept a takeover bid. So BP would cost more than a pretty penny.
But beyond the issue of price, there's this more pressing question: Why would any company want to inherit the massive legal headache associated with all the claims tied to the Gulf of Mexico spill?
Sure, Exxon Mobil may be best equipped to deal with BP given that it was able to move on from the Valdez disaster in 1989 and is now the most valuable company in the U.S.
But are BP's assets really worth the hassle?
"It's very debatable that any company would be comfortable wading into this legal nightmare -- which would last many years. The biggest problem is getting your hands around the liabilities," said Pavel Molchanov, an analyst for Raymond James In Houston.
Even if a company was willing to look past the ocean of claims, there's the public relations issue.
Doug Ober, CEO of Petroleum & Resources Corporation (PEO), a closed-end fund based in Baltimore that invests in energy stocks, said that the speculation -- he said he's even heard some traders mention ConocoPhillips (COP, Fortune 500) as a possible buyer -- really makes no sense whatsoever. His fund does not own shares of BP.
"The likelihood of BP getting taken over is next to nil. Why would a U.S. company want to buy BP given the black eye that it has?" he said.
Plus, one would have to imagine that any takeover of BP would lead to a long, protracted antitrust review that could take months, if not years. And Molchanov said that process would likely need to take place by regulators on both sides of the Atlantic.
With all that in mind, Molchanov said he's not recommending BP to investors. He said other oil companies, such as Chevron and Hess (HES, Fortune 500), are trading at cheaper valuations. And there are still too many uncertainties surrounding BP.
That seems right. The only thing that appears certain is that an outright takeover of BP is incredibly unlikely.
- The opinions expressed in this commentary are solely those of Paul R. La Monica. Other than Time Warner, the parent of CNNMoney.com, La Monica does not own positions in any individual stocks.