The media vs. Chevron: Bring it on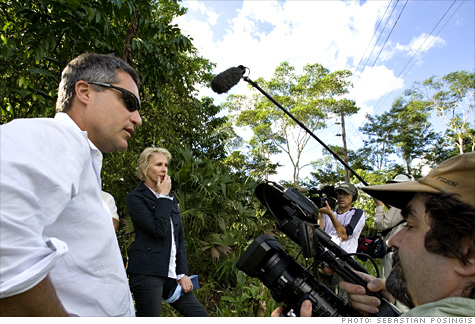 FORTUNE -- Joe Berlinger stands before a packed house at the IFC Center in New York City, joking about his debt of gratitude to Chevron for helping sell out a showing of his 2009 documentary Crude -- even if not for the right reasons.
On the night of June 22, Berlinger, joined by filmmaker Morgan Spurlock (Super Size Me), is hosting a fundraiser for his legal defense against Chevron, which in April sued him seeking access to 600 hours of the film's outtakes. Now the Associated Press, ABC, NBC, CBS (CBS, Fortune 500), Dow Jones, HBO (like Fortune, a unit of Time Warner (TWX, Fortune 500)), the New York Times, the Washington Post, and other media powerhouses have filed amicus curiae briefs in what they see as a First Amendment test case. They fear a ruling for Chevron could weaken what's called journalist's privilege, making it easier for third parties to force journalists to turn over their notebooks or videotapes.
Crude is about the bitter 17-year-old litigation by a group of Ecuadorian Indians against Texaco (bought by Chevron in 2001). They are seeking billions in damages for Texaco's alleged role in oil and toxic-waste dumping on a massive scale between 1972 and 1992. Chevron (CVX, Fortune 500) subpoenaed the outtakes, hoping to prove that a neutral expert appointed by the Ecuadorian court -- who recommended in 2008 that Chevron pay $27 billion in damages -- had undisclosed ties to the plaintiffs' lawyers.
Chevron pointed to a version of Crude streamed over Netflix, which contained clips not in the DVD version showing a key aide to the expert meeting with plaintiffs and their counsel. The issue, says Randy Mastro, a lawyer representing Chevron, has everything to do with the specifics of this case. It is, he says, "no threat to journalists or filmmakers in the future." Berlinger said that he had cut the scenes at the suggestion of the lead plaintiffs' lawyer because he felt they were confusing, and that the meeting was innocuous.
What makes the case a somewhat odd rallying cry for the media is that in the May ruling -- which granted Chevron's demands -- Manhattan federal judge Lewis A. Kaplan found that Berlinger had not promised his subjects confidentiality, as had been done in similar cases. That meant, he said, that the outtakes were fair game. But for David L. Hudson, a First Amendment scholar at Vanderbilt Law School, the significance is the potential precedent set by the sweep of the ruling -- and that Kaplan "waffled" on whether filmmakers even have journalist's privilege.
The federal appeals court that sits in New York has found that journalists are protected by a "qualified" privilege for both confidential and non-confidential information gathered while reporting. Nevertheless, this privilege provides more protection for confidential sources than non-confidential ones. To pierce the privilege protecting information from non-confidential sources, a third party involved in civil litigation need only show that the materials are of "likely relevance to a significant issue in the case, and are not reasonably obtainable from other available sources."
Judge Kaplan found that Berlinger had failed to establish that any of the outtakes from his film depicted confidential sources. On the contrary, Kaplan found, many people in the film had signed broadly worded releases. Kaplan also stressed that the materials were not merely being sought for use in Chevron's civil case against the Lago Agrio plaintiffs, but were also being subpoenaed by two Chevron lawyers for use in criminal proceedings now being brought against those lawyers in Ecuador.
On the other hand, media lawyers were perturbed by the breadth of Kaplan's ruling, which would have required Berlinger to turn over all 600 hours of unused film -- "the most sweeping order of journalist outtakes in history," according to the Lago Agrio plaintiffs. For that reason, George Freeman, assistant general counsel of the New York Times Company (NYT), says the ruling was "an outlier and not consistent with the law in this circuit."
Yet another wrinkle in the case stems from the fact that Berlinger's interests are not necessarily identical to those of the Lago Agrio plaintiffs, who are also appealing Judge Kaplan's order, and who say no footage should be turned over because the Ecuador court hasn't requested it. Berlinger does not maintain such a broad position. "We have always been willing to turn over materials that were shown to be relevant and not obtainable elsewhere," Berlinger's lawyer Maura Wogan wrote Fortune in a statement.
First Amendment giant Floyd Abrams, who is representing the media amici, says that compromise is an option -- for his clients, at least. "If the court decides that some material ought to be produced," he says, "that may not have a major impact on the rest of the industry." Today the U.S. Court of Appeals for the Second Circuit in New York will hear arguments -- and we're likely to hear a lot more about this case within a case.