Google's profit rises but falls short of estimates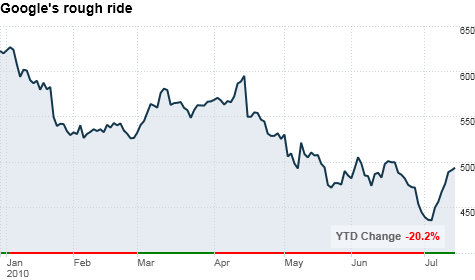 NEW YORK (CNNMoney.com) -- Google's second quarter didn't do much to help get the company's stock out of its current rut.
The world's online search leader reported a quarterly profit on Thursday that rose from its year-ago results but missed Wall Street's forecasts. Though quarterly earnings rose 24% from a year earlier -- healthy by any standards -- it's far from the nearly 40% average growth rate that Google posted over the past five years.
The company said its non-core businesses are growing nicely, most notably in the mobile field. Google reported that its advertising partners are becoming more receptive to mobile-specific advertising, and smart phones running its Android operating system are selling at a rate of 160,000 a day.
"We saw strength in every major product area, as more and more traditional brand advertisers embraced search advertising," Eric Schmidt, Google's CEO, said in a prepared statement. "We feel confident about our future, and plan to continue to invest aggressively in our core areas of strategic focus."
Still, the vast majority of Google's revenue in the quarter -- 96% -- came from advertising. That has some investors worried that Google will forever remain an advertising company disguised in a tech firm's clothes. The other 4% of Google's revenue came mostly from selling Google Apps to corporate customers -- a business that's under pressure from Microsoft after the release of an online version of Office 2010.
Google took a few other hard knocks during the past three months. Users clicked on fewer ads compared to last quarter, and Google's bottom line was hit hard by an unfavorable foreign exchange rate.
In all, the second quarter produced results that mostly fell short of Wall Street's expectations. Google said its net income increased to $1.84 billion. Excluding one-time benefits, Google said it earned $6.45 per share. Analysts polled by Thomson Reuters, who typically exclude one-time items from their estimates, had forecast earnings of $6.51 per share.
Sales for the Mountain View, Calif., company rose 24% to $6.82 billion. Excluding advertising sales that Google shares with partners, a figure also known as "traffic acquisition costs," the company reported revenue of $5.1 billion, roughly in line with analysts' forecasts of $5 billion.
Shares of Google (GOOG, Fortune 500) fell 5% after hours. The stock is down more than 20% this year, faring far worse than competitors like Yahoo (YHOO, Fortune 500), Microsoft (MSFT, Fortune 500) and Apple (AAPL, Fortune 500).
The company remained upbeat about its quarter. Google noted that the average per-click rate that it charges advertisers has been rising, helping drive the company's results higher. The company won regulatory approval for its purchase of mobile advertising company AdMob, and it recently secured its license to continue operating in China.
Google continues to invest in the expansion, adding 1,184 employees during the quarter. On a conference call with investors, Patrick Pichette, Google's chief financial officer, said now is the "right time" for Google to grow its business, especially because the company is seeing financial growth from its emerging businesses amid a still-difficult economic environment.
"There's a lot you hear on the news about how the world economy is going to hurt us and all, but from a Google perspective, our business has had a great quarter," said Pichette on the call.
But at the same time, the company deflected an analyst's question about whether it would start to return some of its $30 billion in cash to shareholders. Pichette said only that the decision is the board's to make.