Oil rises to 3-week high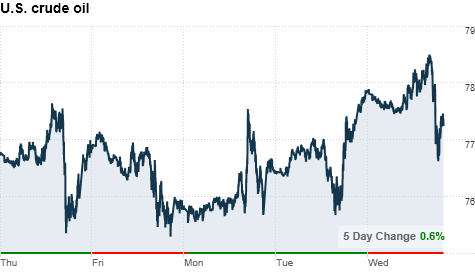 NEW YORK (CNNMoney.com) -- Oil rose to its highest level in three weeks, nearing $78 a barrel, as signs of growing Chinese demand for energy and a cheerier Wall Street boosted prices.
Crude for August delivery rose 0.7% Monday and climbed 1.2% Tuesday to finish at the highest level since June 28, at $77.44 a barrel. But prices drifted 19 cents lower on Wednesday. The rise tracked gains in the stock market, as investors welcomed better-than-expected company earnings.
A report Tuesday, from the International Energy Agency said that China overtook the U.S. as the world's biggest energy user last year, and prospects for continued growth and rising energy demand are strong.
"Everyone has been so concerned about the U.S. economy, but the report on Chinese demand opened up traders' eyes to the idea that we shouldn't worry about every piece of economic data from the U.S., but instead take a global view," said James Cordier, president of Liberty Trading Group.
Oil futures, which switched to the September contract Wednesday, continued to climb for a third straight session early Wednesday, crossing $78 a barrel. But prices slipped later in the day, after a government report showed a surprise build in crude inventories. Still, they held above $77 a barrel.
The Energy Information Administration reported that crude stocks climbed by 400,000 barrels last week, surprising analysts who were expecting inventories to fall by 1.6 million barrels, according to a consensus estimate collected by energy information provider Platts.
Gasoline inventories and distillates, used to make heating oil and gas, also rose more than expected.
A stronger dollar also weighed on prices Wednesday. Crude oil, like other commodities, is priced in dollars, and a stronger greenback pressures prices.
Despite the recent run, Cordier expects oil prices to remain between $70 and $80 a barrel, where they have been trading since May.
"The global economy is strong enough to support prices above $70, but without the U.S. economy turning around -- stocks sustaining a rally and unemployment coming down -- oil prices won't be able to break through $80 a barrel," he said.