Apple is winning. Should Microsoft care?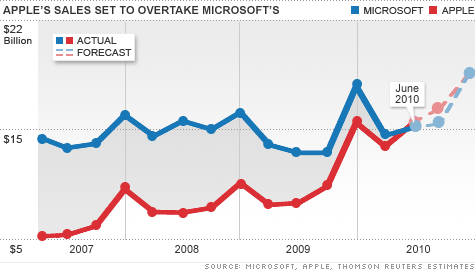 NEW YORK (CNNMoney.com) -- Two months after Apple edged past Microsoft to become the world's most valuable tech company, it's approaching another milestone: Apple's quarterly sales could top Microsoft's, for the first time ever.
Apple (AAPL, Fortune 500) on Tuesday yet again wowed investors by handily beating Wall Street's revenue estimates for the past quarter. By posting $15.7 billion in sales, Apple set itself up to beat its longtime rival. When Microsoft (MSFT, Fortune 500) reports its earnings on Thursday for the quarter that recently ended, analysts predict Microsoft will say it took in "just" $15.3 billion in sales.
Even if Microsoft beats those estimates, Apple's sales will almost certainly pass Microsoft next time around. Apple told analysts it's on track to take in a whopping $18 billion in the three-month stretch that ends Sept. 30., which would easily be Apple's best quarter ever -- and the company's guidance is notoriously conservative.
So Apple is poised to dethrone Microsoft. Customers are spending more money on iPhones, Macs, iPods and iPads than they are on Windows licenses, Microsoft Office and Xboxes.
But does it matter? Are Microsoft and Apple even really rivals these days?
"The media loves to tell this story, but I don't think it's a particularly relevant comparison," said Barry Jaruzelski, management consultant at Booz & Co. "In the past seven or eight years, Apple went from a computer company to a cutting-edge consumer electronics business, and Microsoft is a platform software business."
Once known as Apple Computer Inc., Steve Jobs' company dropped the "computer" from its name and became simply Apple Inc. in 2007. Macintosh computer sales accounted for just over a quarter of Apple's revenue in the last three months, while 65% came from sales of iPhones, iPads and iPods. Music sales on iTunes made up 8% of the money Apple took in.
Though Apple certainly makes software, like its Mac operating system and iPhone iOS, it has essentially become a hardware business that is enabled by its software.
Its biggest competitors have become companies like Nokia (NOK), Research in Motion (RIMM) and Motorola (MOT, Fortune 500) in the smartphone market. Hewlett-Packard is a consumer-gadget giant and a looming tablet threat. And Google (GOOG, Fortune 500) is Apple's most formidable challenger in the mobile advertising market
By contrast, Microsoft is still predominately a software company and is heavily reliant on the success of PCs: Windows and Office generate more than half of the company's revenue and profit. Also, nearly three-quarters of Microsoft's customers are businesses, a space that Apple is only starting to make headway in.
Microsoft now competes more with Oracle (ORCL, Fortune 500), SAP (SAP) and Adobe (ADBE) than Apple.
"Although it's fun to compare them, the reality is these are two ships that passed in the night," said Noah Kravitz, executive editor-in-chief at gadget news site PhoneDog.com.
The tech pages were all abuzz when Apple passed Microsoft in market capitalization in late May, but it still has a long way to go to get to where Microsoft once was.
With a market cap now hovering around $236 billion, Apple is the second-most valuable company in the U.S., behind only Exxon. But at the start of the decade, when its share price was more than quadruple what it is now, Microsoft's market cap was a stunning $550 billion.
And though Apple and Microsoft may be the kings of tech on the stock market, they don't come close to bringing in the kind of sales that some of their behemoth competitors do. HP (HPQ, Fortune 500), by far the largest tech company in the world, is expected to post $30 billion in revenue this quarter, and IBM (IBM, Fortune 500) is forecast to take in $24 billion.