BP offers cheaper gas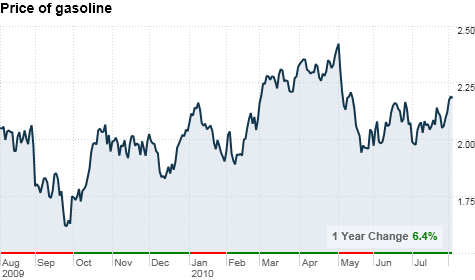 NEW YORK (CNNMoney.com) -- In an effort to help struggling gas stations and appease furious consumers following the Gulf disaster, BP is lowering its gasoline prices.
BP is offering a series of incentives to its distributors that could shave two cents off the price of gasoline at the pump.
Contrary to popular belief, BP does not set prices at the gas station.
Most BP stations are independent businesses, they're not owned by the company. Much like a convenience store selling Coke, the gas stations buy their gas from distributors, which are also independent businesses.
It's the distributors that buy the gas from BP, and they are the ones being offered most of the discounts.
Whether or not the discounts will translate to lower prices for drivers is up to individual station owners.
Here's what BP is offering, according to Tom Kloza, chief oil analyst at the Oil Price Information Service:
Up to a penny off of the wholesale price of a gallon of gas.
A rebate if distributors keep their gasoline sales up.
A discount in the rate it charges service stations for motorists that use credit cards.
And another "temporary voluntary allowance" worth a penny a gallon.
"Call it an anger management allowance," said Kloza.
All told, the discounts add up to between three and four cents a gallon, he said.
BP confirmed the discounts, although didn't put an exact price on all of them.
"Basically, what we've done is put together a package of assistance for the independent owners and operators of BP stations," said BP spokesman Scott Dean. "Unfortunately, customers have taken out their frustrations on service station owners, who have nothing to do with the events in the Gulf."
It's too early to tell if dealers and service stations are passing along the discount to drivers, but anecdotal evidence suggests they are, at least partly.
At a BP station in McLean, Va. earlier this week, gas prices were three cents a gallon lower than at two competing stations located right next door.
Kloza said he'd expect gas station owners to keep maybe half the discount to make up for lost business, and try to lure customers back by offering lower prices with the other half.
Paul Fiore, executive vice president of the Service Station Dealers of America and Allied Trades, said it would be up to each station or distributor to make that call. He expected some would and some wouldn't, depending on how business has been impacted and what the competition is doing.
As for the spill's impact on BP stations in general, Fiore said customer reaction has been mixed, with stations closer to the Gulf taking more of a hit.
"Some stations are off 10, 20, 30 percent," he said. 'It's not pretty."
Meanwhile in New York City, he said sales have, oddly enough, actually risen.