Jobs must lead, not lag, the recovery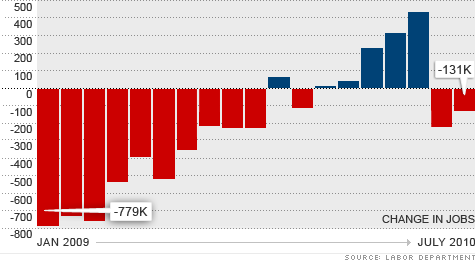 NEW YORK (CNNMoney.com) -- It's time to put to bed this silly notion that the still weak labor market is nothing to worry about because jobs are a lagging economic indicator.
The economy will not and cannot recover until a lot more people go back to work. It's tempting to write off the worse-than-expected loss in jobs in July because it was primarily a result of temporary Census jobs coming to an end.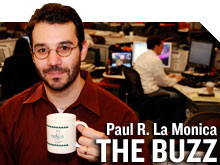 Still, the 71,000 gain in private sector jobs in July was lower than what economists were hoping for and has to be considered a disappointment.
Whether another round of government stimulus is needed to prod businesses to start hiring again is up for debate. But it's painfully clear that businesses MUST add workers for the economy to bounce back.
Sure, jobs growth usually doesn't pick up until after the broad economy does in the wake of recessions. But there was nothing usual about the 2008-2009 downturn.
"The financial panic was the underlying cause of this recession. That makes it different," said Bill Seyfried, professor of economics at Rollins College in Winter Park, Fla. "Coming out of a credit crisis, recoveries tend to be much weaker. I don't anticipate a strong bounce in jobs or the economy."
In 2001, for example, the recession was relatively mild and mostly felt by high-tech companies on the two coasts. It was a business-led slowdown.
But the unemployment rate back then never got anywhere close to the 9.5% it is at now, let alone the 10.1% peak it hit last October. So that's why the economy was able to bounce back in 2002 and 2003. Even during the worst of that jobless recovery, the unemployment rate only got up to a high of 6.3%.
Too much is riding on a job rebound now. The housing market is still in shambles. It's tough to imagine improvement until more people are back to work. Without that, the foreclosure epidemic won't end and the continued glut of houses could make it tough for home prices to rise.
Consumer spending is also not increasing at a decent enough clip to get the economy moving in the short-term. This is great for the long haul as the pickup in the savings rate is a sign of responsible fiscal behavior -- which means we may not suffer through another credit-bubble-induced collapse anytime soon.
But if everybody hunkers down and pinches pennies, that will probably mean that the economy continues to grind along at a low and slow pace, which is why I've coined the term the barbecue recovery to describe the economy.
Businesses, despite having relatively large levels of cash at their disposal, won't hire until consumers start spending again. But many consumers aren't spending because they either don't have a job, don't have a high-enough paying job or are worried about holding on to their job.
"It is a chicken vs. the egg dilemma, but the weakness in the labor market reflects a gradual and slow recovery," said Sean Snaith, director of the Institute for Economic Competitiveness at the University of Central Florida in Orlando. "The aftermath of the long recession has left scars on consumers and it's going to take time for them to heal."
So consumers and businesses both are sitting and waiting. I still think businesses need to be the ones brave enough to make the first move. They need to hire more even if demand isn't fully back yet because they could actually help create demand by giving consumers a reason to be more confident.
But someone has to blink or the fears about a double-dip recession and/or deflation could come to pass.
"At some point, jobs have to kick in for the economic engine to really work. Each month is like a little bit of torture where there are reasons to worry even more," said Bill Cheney, chief economist with John Hancock Financial in Boston. "The real problem is not that employment lags, but that it's lagging too much."
Reader comment of the week. I wrote on Tuesday about how Ford's stock is on a tear and that it may still have room to head higher as the automaker's sales continue to rebound. One reader definitely seems to be a fan of Ford and offers lavish praise to its CEO for its revival.
"Alan Mulally for President," wrote Pete Wagner.
- The opinions expressed in this commentary are solely those of Paul R. La Monica. Other than Time Warner, the parent of CNNMoney.com, La Monica does not own positions in any individual stocks.