China needs 'U-turn' to avoid crash landing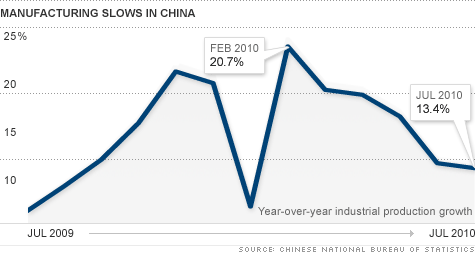 NEW YORK (CNNMoney.com) -- China's economic growth continued to ease in July, signaling that the world's third-largest economy may need to loosen its policies to avoid a hard landing.
Chinese industrial production in July rose 13.4% from a year ago, but the growth rate declined for fifth straight month, according to data released Wednesday by China's government.
"The slowdown in activity is linked to the government's campaigning to end property market speculation," said Mark Williams, senior China economist at Capital Economics.
The Chinese government is trying to introduce price caps without hindering the construction industry, a key driver of growth and employment. But lower industrial output rates point to a slowdown on the horizon.
"The latest data suggests that manufacturing firms that supply materials like copper and steel that goes into building construction think that work will tail off sharply toward the end of the year," said Williams.
Retail sales in China also weakened in July, the government said. Sales rose 17.9% from a year ago, but that's down from 18.2% annual growth reached during the first half of the year.
"China's government has introduced measures to support consumer spending of the last 18 months, but those seem to be having less of an effect recently," Williams said, noting that auto sales in particular have been declining since the beginning of the year.
After years of rapid growth that led to fears of the Chinese economy overheating, government officials have been implementing measures to cool some sectors of the economy, including the real estate market by asking banks to pullback on lending.
But now, concerns that the government's measures could result in a so-called hard landing for the economy are more justified, Williams said.
"China will be force to loosen its monetary policies to avoid a hard landing," Williams said. "We expect a U-turn on government efforts to limit bank lending."
Meanwhile, China's consumer price index, a key gauge of inflation, spiked 3.3% form a year ago, driven by a 6.8% surge in food prices which have jumped due to severe flooding in the country. Excluding food, prices increased 1.6%.
The newest economic data comes one day after China's trade surplus ballooned to an 18-month high of $28.7 billion in July as slowing economic growth pressured imports.