Ed Whitacre drops a monkey wrench in a GM IPO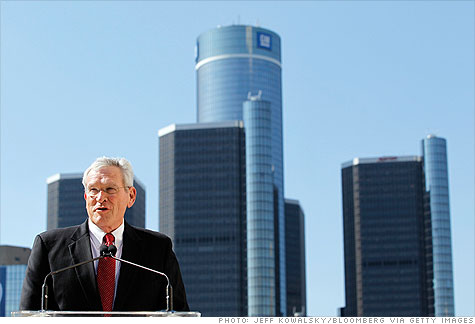 FORTUNE -- General Motors was winding up a regular quarterly earnings call with securities analysts and reporters Thursday morning when Chairman Ed Whitacre unexpectedly got on the line to announce that he was stepping down as chairman and CEO.
And soon. Whitacre is leaving the CEO's job in three weeks. His replacement is another former telecom executive, Dan Akerson, who has been on GM's board for a little more than a year.
Both the timing of the announcement and the identity of Whitacre's successor came as a big surprise to the outside world. And it would appear to make GM's rumored initial public offering -- which could be announced as soon as Friday according to reports -- a lot more challenging.
To be sure, announcing the CEO change now removes any uncertainty about its timing in the future. But Akerson would have to lead any IPO road show to talk up the company's prospects and attract investors to the offering -- a burdensome proposition for someone with little tenure on the job.
And what about the impact on a company that is about to get its fourth CEO in just under eighteen months?
Whitacre had always made it clear that since he was well past normal retirement age, he wasn't on the job for the long haul. He resisted putting down roots in the Detroit area and continued to return to his Texas home on weekends.
Still, he was thought to enjoy running the world's second-largest car company. His public profile rose significantly, and he got to enjoy the attention that comes from such an identifiable product in such a visible industry. Besides, he had enjoyed the success of returning GM to profitability and putting it on sounder financial footing.
Whitacre still had plenty of work to do. His priority number one was completing a successful IPO to remove the stigma of having the U.S. government as a majority shareholder. He often said that he disliked being associated with a company that had become known as "Government Motors."
He was also engaged in the long-term task of changing GM's culture of entitlement and privilege. Whitacre was renowned for his habit of dropping into employee offices unannounced to find out what people actually did and talking with them about his plans for the company.
Whitacre was also aggressively rooting out GM's belt and suspenders approach to running the business, which often involved studying a problem to death instead of dealing with it and moving on.
He had made considerable progress revamping GM's marketing, which has gone through several leadership changes of its own. As a result, several of the automaker's vehicles developed under his predecessors began to attain must-have status -- a rarity at GM in recent years.
Sales analyst Warren Browne recently described four GM autos as "blistering hot," meaning their sales were growing significantly faster than the rest of the industry: the Cadillac SRX, Buick LaCrosse, and Chevrolet's Camaro and Equinox. That's more than any other manufacturer, and their success -- along with the Chevy Malibu and Suburban -- contributed to sharply improved results in GM's North American operations.
Still, as second quarter results showed, GM faces plenty of potential potholes going forward.
It's been using incentives to boost U.S. sales at a higher rate than its competitors, and it became very reliant on low-margin fleet sales in the second quarter. They accounted for 34% of U.S. volume. Overseas, GM is facing increased price pressure in China, and its European operations continue to lose money despite repeated attempts to restructure them.
The biggest risk for GM going forward is a slowing of the economy in the U.S and the rest of the world. Car buying is directly connected to consumer confidence, which in turn is connected to unemployment. As long as the jobless rate stays stuck in the high single digits, car sales are likely to remain at low levels.
Such macroeconomic factors are expected to weigh heavily on any GM IPO. Since the automobile industry is a cyclical slow-growth business, professional investors treat auto stocks as trading vehicles -- not long-term buys. Thus they buy them in anticipation of a turnaround in the economy when prices are lowest, and then sell them as their prospects improve.
But since the global economy appears to be headed downward, or at least flattening out, there is little reason for the usual investors to buy the shares, making the timing for an immediate GM IPO less than optimum -- especially with a new CEO at the helm.
In any event, these aren't Whitacre's problems any longer -- they are Akerson's. Another outsider has moved into the top job at GM, and it remains to be seen how he plans to build on Whitacre's legacy -- and then develop his own.