Global economy going nowhere fast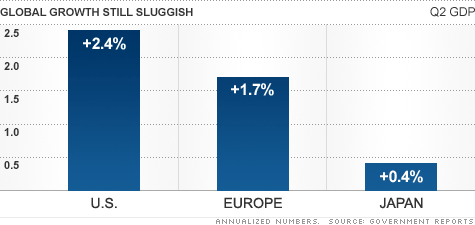 NEW YORK (CNNMoney.com) -- So much for merger mania getting investors excited.
Stocks were off to a brutal start Tuesday, following a lackluster Monday. Even though the pace of corporate takeovers is picking up, investors just aren't buying the notion that more mergers could lead to higher stock prices.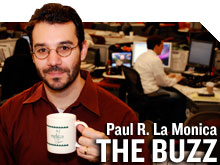 And with good reason. To quote James Carville -- as numerous others have done for almost 20 years now -- it's the economy, stupid. But the scary thing is that it's not just the U.S. economy that people need to worry about. It's the global economy.
Of course, the fact that both the labor market and housing market in the United States remain weak is a big problem. But it's not the only problem. Europe remains a mess despite diminished fears that the sovereign debt crisis will escalate into default by the so-called PIIGS nations en masse.
Fast food giant Burger King (BKC), for example, specifically referred to "government austerity programs across many European markets" -- in addition to the labor woes in the U.S. -- as a reason why it expects sales to be pressured for the rest of this year. Burger King reported earnings Tuesday.
That may sound like a Whopper of an excuse. (Ha! Couldn't resist.) But Burger King is hardly the only multinational company affected by turmoil in Europe.
Medical equipment company Medtronic (MDT, Fortune 500) -- which gets about a quarter of its sales from Europe -- warned Tuesday that its sales and profits for the current fiscal year will be lower than expected. Medtronic chairman CEO Bill Hawkins described current conditions as a "softer global healthcare market."
Japan is also continuing to struggle. Gross domestic product in the second quarter rose at an anemic annualized pace of 0.4%.
And with the yen hitting a new 15-year high against the dollar Tuesday, there are renewed fears about how this will impact the livelihood of top Japanese exporters. The U.S.-listed shares of Sony (SNE), Hitachi (HIT) and Kyocera (KYO) all fell more than 2% Tuesday.
"People are backing away from risky assets," said Phil Dow, director of equity strategy with RBC Wealth Management in Minneapolis. "You don't have to look too hard to find the negatives. The near-term data is weakening."
There are some faint glimmers of hope though. Emerging markets, particularly China, are still expanding at a robust pace. That should help lift global demand somewhat. And while it's true that the growth in China is a bit slower than earlier in the year, some think that the concerns about China are way overdone.
"The markets' perceptions of what is happening in China appear to swing between the two extremes that the economy there is overheating or that it is already collapsing. Our analysis has steered a middle course," wrote John Higgins, senior market economist with Capital Economics in London Tuesday morning.
When push comes to shove, it seems that all the recent data about earnings and the economy is telling us is that the global market remains mired in a post-recession funk.
It was silly to think that the economy could simply snap back like a rubber band considering that the excesses that led to the 2008-2009 crisis were years, if not decades, in the making.
"The perception that there will be a quick global economic rebound has to be thrown out the window," said Subodh Kumar, an independent market strategist in Toronto.
With that in mind, he thinks that stocks are unlikely to return to their highest points of 2010 until sometime in later 2011. People simply got too excited about the chances of an economic resurgence.
That's why -- not to beat a dead horse -- I have been calling this the BBQ recovery. Low and slow. There's no reason to change my tune now. And I'm far from being the only one that thinks this.
Global advertising agency WPP (WPPGY), which reported its latest results Tuesday morning, summed up what's going on around the world right now pretty succinctly.
In a statement, the company suggested that rather than arguing about double-dips and inflation versus deflation, consumers, investors and businesses need to realize that it's going to feel like this for a long time.
"The most likely scenario is a slow growth 'slog', particularly in the mature geographical markets," the company said. "In some senses, the recovery will not be over for a long time."
That's obviously not good news. But a slow recovery is better than no recovery.
- The opinions expressed in this commentary are solely those of Paul R. La Monica. Other than Time Warner, the parent of CNNMoney.com, La Monica does not own positions in any individual stocks.