Stocks lose big on home sales shock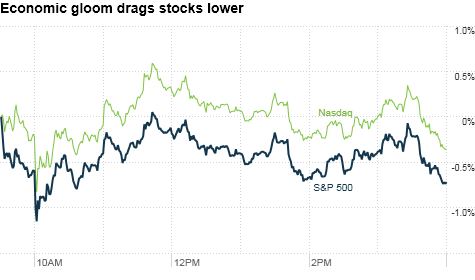 NEW YORK (CNNMoney.com) -- U.S. stocks closed sharply lower Tuesday after a report showing showing a worse-than-expected plunge in existing home sales reignited fears about an economic slowdown.
The Dow Jones industrial average (INDU) sank 134 points, or 1.3%, the S&P 500 (SPX) lost 15 points, or 1.5%, and the Nasdaq (COMP) composite fell 36 points, or 1.7%.
"Economic reports have been close to disastrous," said Joseph Saluzzi, co-head of equity trading at Themis Trading. "People are very concerned about the economy and everyone is talking about a double-dip [recession] at this point."
Disappointing economic news has sent investors flocking to the perceived safety of Treasurys and the Japanese yen, which hit a 15-year high against the dollar early Tuesday.
Losers outnumbered winners by three to one on the New York Stock Exchange and the Nasdaq.
Declines were led by tech, finance and health care stocks, with General Electric (GE, Fortune 500) and Sony (SNE) sliding more than 2%, Citigroup (C, Fortune 500) and Bank of America (BAC, Fortune 500) dropping more than 1% and Pfizer (PFE, Fortune 500) slipping 2%. Among the biggest losers, Medtronic (MDT, Fortune 500) shares sank 11% after the medical device maker booked disappointing quarterly earnings and lowered its full-year outlook.
Wall Street struggled through another choppy session Monday, with stocks finishing lower as ongoing worries about the global economy pushed excitement about deal-making talks to the backburner.
Economy: The National Association of Realtors said existing home sales plummeted 27% last month to an annual rate of 3.83 million units, marking the lowest sales pace since the association began tracking the figure in 1999. Economists surveyed by Briefing.com forecast a rate of 4.72 million units.
"This number coming in lower than even the most bearish expectations just confirms the same deteriorating economic conditions we've been seeing," said Ryan Detrick, a senior technical strategist at Schaeffer's Investment Research. "The economy seems to be very quickly slowing down and not showing signs of life."
A report on new home sales is due Wednesday, and economists surveyed by Briefing.com expect a slight increase to an annual rate of 334,000 units in July from 330,000 in June.
Meanwhile, a report released Tuesday showed that disagreements among the 17 key Federal Reserve officials about how to handle the economy peaked at a meeting earlier this month, according to The Wall Street Journal.
Currencies, bonds and commodities: The dollar fell to a 15-year low against the Japanese yen in early trading, slipped against the euro, but climbed against the British pound.
"The yen is extremely strong, giving people real concern about our economy," said Saluzzi. "And with the 10-year yield this low, it shows people are really willing to put their money into Treasurys. All of this together means the risk trade is definitely off."
The yield on the benchmark 10-year note approached a 17-month low Tuesday, falling to 2.50% from 2.6% late Monday.
Treasury yields have been holding near historic lows recently as economic jitters have boosted the appeal of so-called "safe" investments such as government-backed debt.
In other markets, oil futures for October delivery fell $1.47 to settle at $71.63 a barrel. Gold for December delivery added $4.90, settling at $1,233.40 an ounce.
World markets: European shares finished sharply lower. The CAC 40 in France dropped 1.7%, Britain's FTSE 100 lost 1.5% and the DAX in Germany fell 1.3%.
Asian markets ended mixed. Japan's benchmark Nikkei index ended down 1.3% and the Hang Seng in Hong Kong fell 1.1%. But the Shanghai Composite edged up 0.4%.
Companies: Barnes & Noble (BKS, Fortune 500), which put itself up for sale earlier this month, posted a quarterly loss that widely missed expectations and said same-store sales fell in the first quarter.
Shares of the bookseller ended more than 2% lower.