Oil: 'We've already priced in the bad news'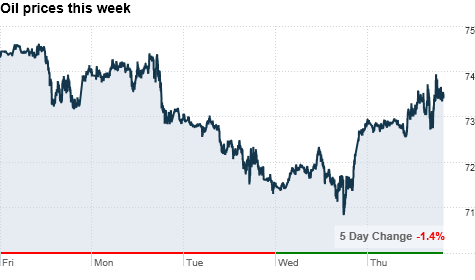 NEW YORK (CNNMoney.com) -- Oil plummeted to $70 a barrel earlier this week after a raft of negative economic reports, but prices were drifting higher by Thursday as investors got accustomed to bad news.
"Everyone is tempering down their already low expectations," said James Cordier, president of Liberty Trading Group. "They're pricing in the worst-case scenarios."
Oil followed stocks lower this week after a pair of shockingly bad housing reports. Crude investors look to economic reports like these as an indicator of when the economy -- and therefore, oil demand -- will rebound.
On Tuesday, the National Association of Realtors said existing home sales plummeted 27% last month to an annual rate of 3.83 million units. That was the lowest sales pace on record, and the figure came in far below analysts' expectations. The report sparked fears of a double dip in housing prices.
Wednesday wasn't any better for housing, with a government report revealing new home sales unexpectedly plummeted to the lowest level on record, dropping 12.4% in July.
"We're just getting one bad report after another," Cordier said. "People were selling off all they could earlier this week."
Prices briefly dropped near $70 a barrel Wednesday, but oil had recovered by Thursday afternoon to trade near $73.50 a barrel after the government said the number of people filing for first-time unemployment fell to 473,000 last week.
That number was lower than expected, and it was much better than last week's report in which the figure rose dramatically to 500,000 initial claims.
"Every time we get a number that doesn't make our jaws drop, we get a relief rally," Cordier said. "Relatively speaking we had a decent number on initial claims, but that's really lowering the bar. Yet it still boosted prices."
Investors were still jittery, though, ahead of a closely-watched GDP reading on tap for Friday. Economists expect the government to revise second-quarter GDP to 1.4%, a significant slowdown from the previous reading of 2.4%.
Cordier said he expects oil prices to hold near the mid-$70s for the next few weeks.