Sanofi offers $18.5 billion for Genzyme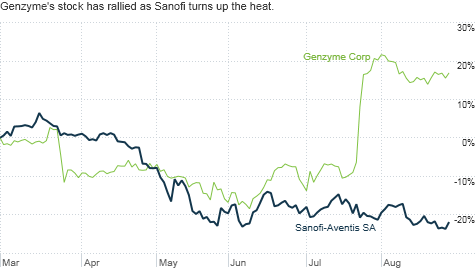 NEW YORK (CNNMoney.com) -- French pharmaceutical firm Sanofi-Aventis is stepping up the pressure on U.S. biotech firm Genzyme, going public with an $18.5 billion cash offer and hinting it may consider a hostile takeover if Genzyme refuses to talk.
Sanofi said it first made the offer July 29 but decided to go public after being rebuffed by Genzyme. Monday's announcement is aimed at getting Genzyme to the table, or at the very least, to bring the offer to shareholders, said Sanofi in a statement.
"We feel we are left with no choice but to take our compelling proposal directly to your shareholders by making its terms public," Sanofi chief executive Christopher Viehbacher said in a letter sent to Genzyme.
Genzyme rebuffed the offer. "It provides no new information and no improvement in price, and therefore fails to establish a basis for engagement by the Genzyme board," chief executive Henri Termeer said in a response letter to Sanofi.
Sanofi's letter detailed a months-long attempt to engage Genzyme in acquisition discussions. Genzyme, a bio-pharmaceutical company that makes products to help treat rare diseases and cancer, was apparently "unwilling even to meet" said Sanofi.
Sanofi first sent Cambridge, Mass.-based Genzyme a letter on July 29 offering to buy it for $69 per share in cash. That was a 38% premium over Genzyme's closing price on July 1.
Sanofi said Genzyme also rejected an Aug. 11 proposal as well without agreeing to a meeting.
"After our repeated requests, you agreed only to let our respective financial advisors hold a meeting of limited scope," Sanofi said.
Termeer reiterated the company's previous position, saying, "without exception, each member of the Genzyme board believes this is not the right time to sell the company ... your opportunistic takeover proposal does not begin to recognize the significant progress underway to rectify our manufacturing challenges or the potential for our new-product pipeline."
Sanofi, which makes vaccines and drugs, said it could help Genzyme reach across the globe. But it also alluded to the smaller company's ongoing problems. Genzyme was forced to close its manufacturing plant last year because of a viral contamination, and the company recently said it could take three to four years to resolve the issue fully.
"Your continued refusal to enter into constructive discussions will serve only to further delay the ability of your shareholders to receive the substantial value [of] our offer," the Sanofi letter warned.
Neither company was available for immediate comment.
In U.S. trading, shares of Sanofi (SNY) closed down 1% while Genzyme (GENZ, Fortune 500) gained 3.4%.