Bank of Japan's additional loan program "too little"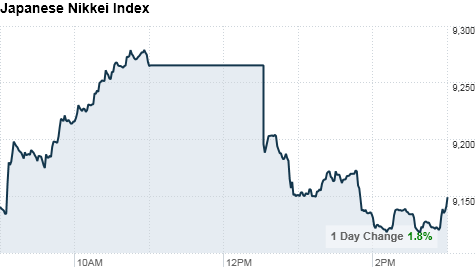 NEW YORK (CNNMoney.com) -- The Bank of Japan announced steps at an emergency meeting Monday to curb the yen's strength and lift the country's struggling economy -- but the move was not enough to satisfy investors.
The central bank announced a new ¥10 trillion, or $117.15 billion, six-month loan program for financial institutions, in addition to the ¥20 trillion it has been offering in three-month loans.
The bank also held its key-interest rate at 0.1%.
"The Bank recognizes that Japan's economy faces the critical challenge of overcoming deflation, and returning to a sustainable growth path with price stability," the Bank of Japan said in a statement.
But the minor step was a disappointment to investors.
The Nikkei pulled back from earlier gains to finish only 1.8% higher. The yen rebounded and was up 0.6% to ¥84.66.
Following initial news of the emergency meeting, the Nikkei had rallied more than 3% and the yen weakened 0.7% against the dollar, but both reversed directions following the central bank's policy announcement.
"The Bank of Japan's extension to its bank-lending program was seen as just too little by many in the market," said Marc Chandler, global head of currency strategy at Brown Brothers Harriman. "There had been speculation of more strident measures, such as increased buying of Japanese government bonds, to tackle the faltering economy."
Last week, the yen hit a 15-year high versus the dollar at ¥84.16, as jittery investors flocked to the Japanese currency -- typically seen as a low-risk investment during times of economic uncertainty. Over the past four months, the yen has climbed more than 10% against the dollar.
Investors have been looking for the Japanese government to intervene to limit the currency's rise, as a stronger yen can hurt profits at Japan's export businesses.