Cash-strapped schools turn to volunteers to fill budget gaps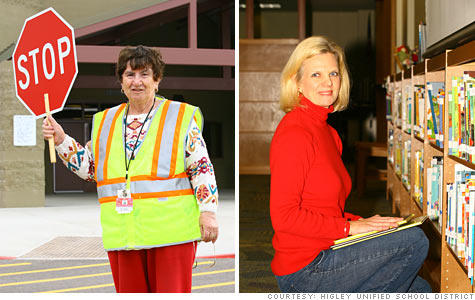 NEW YORK (CNNMoney.com) -- As state and local funding for education dries up, schools around the nation are asking their communities to help them maintain their services and programming.
Many are increasing their use of volunteers, while others are boosting their fundraising efforts. Some are even turning to online auctions to boost reserves.
Arizona's Higley Unified School District, for instance, relies on a volunteer corps of 3,500 area residents to help make up for a $10 million loss in funding over the past two years.
"We aren't able to financially afford the support staff we need," said Melinda Anderson, Higley's volunteer coordinator, who was hired last year to boost participation in the suburban Phoenix community.
Anderson has added more than 1,000 volunteers to the rolls since she joined the 10,300-student school system last November. She's worked to recruit a wide range of volunteers, who include retirees, police officers, a former professional football player and social workers.
These volunteers can be found planting trees, helping youngsters cross the street and watching over them in the lunchroom and library. They also tutor children, assist teachers in the classroom and work with the clerical staff answering phones and filing.
This summer, a group of high school and college students helped the district upgrade its technology.
In other school districts, the plea is for cash, not volunteers.
In San Marino, Calif., for example, the school district avoided having to pack 39 students into a classroom thanks in large part to $3.4 million in donations from the community, a large jump from the usual $1 million in contributions.
The wealthy district, which educates 3,200 children, raises 40% of its budget from donations and land taxes. The big boost in fundraising this past spring helped offset a cut in state aid of more than $2,000 per student in recent years.
Parents and residents are willing to donate because they don't want the top-rated district to cut programs, such as athletics and arts, said Gary Woods, superintendent.
"We refer to ourselves as semi-private," he said. "We have to go to our citizens to bail us out."
Other schools have come up with creative ways to raise funds, including turning to online auctions. BiddingForGood, for instance, says it ran 1,100 auctions during the 2009-2010 school year, up from 820 a year earlier. The average proceeds are $14,500, of which the company takes a 9% cut.
PS 158, in New York City's tony Upper East Side neighborhood, has raised nearly $63,000 from the four online auctions it's held since the spring of 2009.
The parents association uses BiddingForGood to offer Broadway tickets, trips, gift certificates to Manhattan restaurants and stays at summer homes. The online auction not only supplements the school's annual live auction, but allows it to clear its inventory of items that didn't sell during the live event.
Gwen Kahn, an association board member who manages the online auction effort, said she plans to hold another three this school year.
"Now more than ever, we are trying to get as much as possible to make up for shortfalls from budget cuts," Kahn said. "In the last year, everyone has worked really hard to raise a lot of money."