Why carmakers aren't coming back anytime soon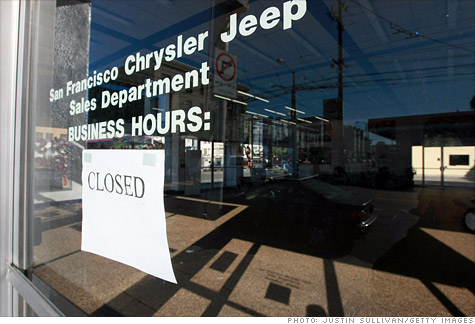 FORTUNE -- With the home stretch in sight, 2010 is shaping up to be a weaker U.S. auto market than predicted, probably closer to 11.5 million new-vehicle deliveries, rather than the 12 million that automakers and forecasters had figured - and hoped - would be sold.
And 2011 isn't looking any too promising for a rebound toward the 16 million to 17 million annual sales total that nourished the world auto industry for most of the last decade. Though housing gets most of the attention these days, automakers are recovering from quite a bubble of their own.
Weak economic growth over the next few years, what Pimco's Mohammed el-Erian famously dubbed ``the new normal,'' could mean that U.S. drivers will be hanging on to their cars longer, sharing rides more frequently and choosing public transportation, where available. And so the near-term to mid-term financial prospects for automakers look dimmer, perhaps most ominously for General Motors Co., which is readying for an initial public offering of stock in November.
``Most consumers are waiting for another shoe to drop, either a double-dip recession or, further out, the declaration of a national debt emergency as a cover to raise taxes substantially,'' said Jeremy Anwyl, chief executive officer of Edmund's.com, a website devoted to automotive information. `` We are left with a market driven by need, not want. Consumers are putting off purchasing a new vehicle--or are choosing an almost new vehicle as a pragmatic alternative--until the need to buy is real. ''
George Pipas, sales market analyst for the Ford Motor Co., (F, Fortune 500) said ``the short answer is we just don't know'' which way the market is headed. ``The new normal is outside our business model,'' he said, adding: ``In our own company there's substantial disagreement'' about how to interpret indicators that bear on sales forecasts.
Economists point to the fact that the 6 percent annual replacement of worn-out and scrapped vehicles has been running below typical levels for the past two years, Pipas said. As cars age, pent-up demand builds among drivers who have decided to keep their cars longer than normal. About 245 million vehicles, or slightly more than one per licensed driver, are registered in the U.S.
Consumer debt, which spiked to an all-time record of about $2.6 trillion in 2008, has been falling since then, according to the Federal Reserve. Consumers are staying on the sidelines, paying down debt and, if they have a job, making sure they stay employed and solvent. As nervousness over economic deflation intensifies, so does awareness that debt in real-dollar terms is a financial peril that can be mitigated by avoiding new obligations such as car payments.
Consumers are ``retrenching slowly,'' said Anwyl. ``Slumping home values and 401(K)s encourage a shift to thrift.'' The U.S. savings rate, which had dipped below 1 percent of income in the spring of 2005, reached almost 6 percent in July.
The U.S. government's attempt to jump start sales with the 2009 "cash for clunkers" program had mixed results. The program drew forward to late last summer sales that probably would have happened anyway in subsequent months. An unintended outcome of scrapping more than 700,000 vehicles with relatively lower fuel efficiency was to aggravate the scarcity - and drive up the price - of used cars.
With new-vehicle sales down, dealers have fewer trade-ins on their lot anyway. This month Edmunds.com reported that the average price of a new car jumped 10.3 percent or about $1,800 in July, compared to a year earlier. Used sport-utility vehicles such as the Cadillac Escalade and Chevrolet Suburban are selling for about 30 percent more than a year ago: Fewer of the big models are being built and gasoline has been relatively cheap, neutralizing worries about fuel cost.
As if economic headaches weren't trouble enough for automakers, new cultural trends may be affecting the way young people in particular view the desirability of owning a new vehicle. ``Compared to 20 years ago, the average 18-year-old gets more excited about buying a new cellphone than buying a new car,'' said Pipas.