Meet the CEO of the biggest company on earth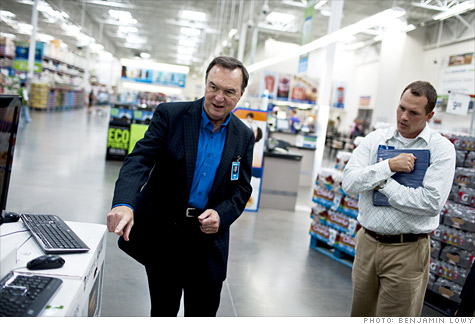 FORTUNE -- It wasn't much of a honeymoon. Less than a year after Wal-Mart's new chief executive, Mike Duke, took control of the world's biggest company, he was faced with a not-so-little problem. Shortly before he became CEO in early 2009, Wal-Mart had announced, with great fanfare, Project Impact -- a plan to freshen up the stores and make them a better place to shop. For the most part it worked pretty well. The stores were cleaner and brighter, the logo's blue and yellow color scheme was warmer and more appealing, and the company embraced a catchy new slogan: "Save money. Live better." Even the yellow smiley face was dropped in favor of a perky new "spark" resembling a twinkly star. Nice.
The only trouble was that customers were buying less stuff. Part of Project Impact's mission was to cut down on the number of items sold in the stores. Fewer products meant less clutter. But if you happened to be a fan of Wisk laundry detergent, for instance, you were flat out of luck. Customers were voting with their feet -- sales at existing stores were down -- and some of Wal-Mart's big suppliers were even less cheery. Says one executive: "What happened was, shoppers said, 'We love clean aisles.' But they stopped shopping there."
For a company Wal-Mart's size -- for a company of any size, for that matter -- Duke, 60, moved quickly. By March of this year he had started to bring back many of the products that had been dropped, including Wisk, and he eventually reassigned the chief of the U.S. stores division; another top executive, who had been brought in from archrival Target, left the company.
No wonder his predecessor CEO, Lee Scott, calls him "a doer."
This, in fact, is vintage Duke. Study a problem; take action. When he ran Wal-Mart International, one of his first acts was to close Wal-Mart's German division, which had plagued the company for years. He's also a chief executive who isn't afraid to get down and dirty in the details. As you'll see, he's as comfortable analyzing cereal displays and the price of bananas in the company's China stores as he is dealing with big-picture issues such as environmental sustainability.
As just the third CEO to follow founder Sam Walton -- and the first who had never known the man employees still refer to as "Mr. Sam" -- the career retailer and 15-year Wal-Mart veteran remains largely anonymous to the wider world. Not much for cooperating with stories like this one, the Georgia Tech--educated engineer much prefers studying sales data or analyzing a store shelf by shelf. He is so low-key and friendly that you might mistake him for the company's human resources chief -- as opposed to one of the world's most powerful businessmen. Still, to those who know and work with him, he's a demanding boss and a tough negotiator. He's constantly coaching everyone around him. He trusts but always verifies. And he typically has a smile on his face, even when he's doling out blunt feedback.
On paper his job sounds nearly impossible. Managing an enterprise the size of Wal-Mart (WMT, Fortune 500), based in Bentonville, Ark., is a task of almost unimaginable complexity. The mega-retailer topped Fortune's Global 500 list this year, with 2010 sales of $408 billion -- but that number alone doesn't do justice to the social, legal, and logistics issues that come with running an operation so enormous. Growing a business that size -- 8,500-plus stores and 2.1 million employees -- is equally hard to fathom. To increase revenue by a modest 3% this year, for instance, Wal-Mart would have to produce additional sales of some $12 billion. That number alone would put a company at No. 194 on the Fortune 500 list.
While he moves to reinvigorate the U.S. business, Duke is also working to build what he calls a "next-generation Wal-Mart." To get there, all he has to do is make sure the company doesn't backslide on social issues that have plagued it off and on for years, recruit and develop vast numbers of new leaders talented enough to implement his vision, and re-create Wal-Mart's success at home in growing markets like China and India. Big job.
You can't expect to succeed as the CEO of any Fortune 500 company if you're easily intimidated, but the bar is set pretty high for chief executives in Bentonville. The shadow of Sam Walton looms large a full 18 years after his death -- and not just because his family owns 45% of the company's stock. Visitors to the home office walk past a bronze bust of the legendary retailer as they enter the low-slung brick and corrugated-metal building just off Walton Boulevard. His likeness and his words of wisdom are painted in meeting rooms and hallways. And one of his folksy quotations has recently been distilled into the company's new mission statement: "Saving people money so they can live better."
The other thing is, the two guys who came after Walton weren't half bad either. In the 1990s David Glass took the company global and rolled out the supercenter stores that allowed Wal-Mart to strike it big in the grocery business. In the decade that followed, Lee Scott kept Wal-Mart on its sales growth trajectory while improving the company's negative image by tackling head-on issues like environmental sustainability and health benefits for his employees. Between the two of them, Glass and Scott boosted revenue by a multiple of 25 and increased the company's market capitalization from $15 billion to $185 billion over a 21-year period.
Read on for more on Mike Duke: CEO of the biggest company on earth
--Additional reporting by Doris Burke