Stocks end the week barely up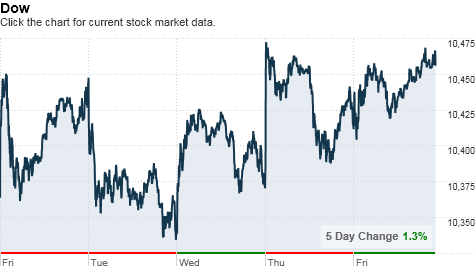 NEW YORK (CNNMoney.com) -- Trading was choppy and light Friday, with stocks barely ending the week higher as investors wavered between mildly upbeat data and ongoing fears about a slowing economy.
For the overall week, the Dow Jones industrial average (INDU) rose 15 points, closing at at 10,463 on Friday. The S&P 500 (SPX) added 5 points to end at 1,109, and the tech-heavy Nasdaq (COMP) Composite rose 10 points to 2,243, according to early tallies.
All three stock indexes posted gains in the two prior trading sessions, but those were modest compared to losses on Tuesday. The Dow needed to rise above 10,448 to breakeven for the week, and after hovering all day around that level, rallied late Friday to rise slightly higher.
Trading volume was exceptionally light during the shortened holiday week. U.S. stock markets were closed Monday for Labor Day, and trading desks were staffed lightly Thursday and Friday due to Rosh Hashanah.
Economy: Earlier Friday, a government report showed that wholesale inventories rose 1.3% in July, following an upwardly revised 0.3% increase the month before. Investors took the unexpected rise as a positive sign for the economic recovery.
In a White House press conference, President Obama continued his push for a $350-billion jobs recovery plan and a small business tax cut currently stalled in Congress.
Companies: Shares of Nokia (NOK) gained more than 2%, after the mobile phone maker named Stephen Elop -- the head of Microsoft's (MSFT, Fortune 500) business division -- as its CEO. Elop will begin as president and CEO on Sept. 21, replacing Olli-Pekka Kallasvuo.
Pacific Gas & Electric (PCG, Fortune 500) tumbled more than 8% Friday after a gas pipeline in California exploded and erupted into flames. The blast occurred in San Bruno, near San Francisco, after a gas transmission line owned by the company ruptured. The cause of the rupture is still being investigated.
World markets: European closed mixed. The CAC 40 in France and Britain's FTSE 100 both rose 0.1%, and the DAX in Germany fell 0.1%.
Asian markets ended higher, after the Japanese government unveiled a $10.9 billion stimulus package aimed at boosting employment, consumer spending and corporate investment.
Japan's benchmark Nikkei index rallied 1.5% and the Hang Seng in Hong Kong gained 0.4%. The Shanghai Composite ended 0.3% lower.
Currencies and commodities: The dollar fell against the euro, but rose against the British pound and the Japanese yen.
Oil futures for October delivery climbed $2.20 to settle at $76.45 a barrel, after reports of a pipeline leak and the government's latest supply report spurred speculators to short-cover their oil positions.
Gold for December delivery dipped $4.40 to settle at $1,246.50 an ounce.
Bonds: The yield on the 10-year Treasury note rose to 2.8% from 2.76% late Thursday.